Survey comes after Core Five said housebuilder materials costs escalating by 6.7%
The Construction Products Association (CPA) has become the latest to sound the alarm over material shortages which could affect the housebuilding industry, after a record number of materials firms reported price hikes.
Supply chain disruptions due to a lack of available shipping containers and reduced staff at ports has been flagged as the major constraint on supplies for the next 12 months. The CPA said demand was being driven by the strong housebuilding activity and was expected to lead to big price increases.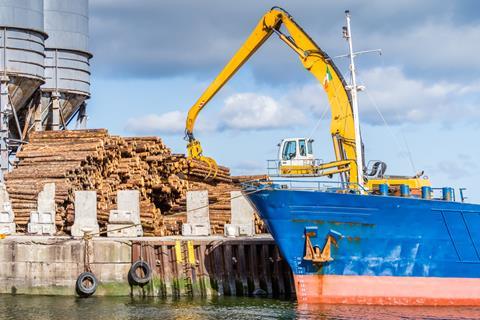 Some 97% of firms dealing in heavy side products such as steel, timber and concrete expect cost pressures to remain high over the coming year, according to the CPA's latest State of Trade survey.
It is the highest balance since the survey began in 2011.
The warning comes after construction consultant Core Five last week warned of a "perfect storm" over construction materials costs, saying that costs for housebuilders could spike by 6.7% this year.
For firms dealing in light side products, such as glass, insulation and fit-out materials, 92% are anticipating increasing costs over the next year.
Nearly 90% of materials firms said that costs of raw materials had increased over the past year, with manufacturers expecting overall cost pressures to stay high over the coming year.
The numbers show a deteriorating picture for global material costs, with 77% of heavy side manufacturers and 82% of light side manufacturers reporting that prices rose in the first quarter of 2021, compared to 64% and 61% respectively in the last quarter of 2020.
A recovery in global oil prices has also hit costs, with 73% of heavy side firms and 51% of light side firms reporting a rise in energy prices, while half of heavy side firms and 48% of light side firms said wages and salaries had increased in the first quarter of this year.
CPA chief economist Rebecca Larkin said there was a risk of bottlenecks in the global supply chain over the next year, adding that almost all manufacturers expect the inflationary pressure to persist.
Shortages because of logistics issues was also reported in the CPA's survey as the major constraint on sales growth by a third of heavy side manufacturers and 40% of light side manufacturers, the highest proportions in the survey's history.
The report is the latest sign of escalating material supply issues which could hit the construction sector as its post-lockdown rebound kicks into gear.
Core Five said a "perfect storm" of rising materials costs was set to hit contractors because of post-Brexit trading rules, rising oil prices and covid-related logistical issues.
Iron ore prices have nearly doubled over the past month, while the cost of copper is up by 49%, sawn wood up 30%, aluminium up 23% and gravel, sand and clays up by 20%.
Cenkos analyst Kevin Cammack said the 6.7% increase in costs for housebuilders predicted by Core Five was "way above the budgets most quoted housebuilders are claiming is in their budgets".
Last week's IHS/CIPS survey found firms are having to wait longer for materials with 41% reporting longer delivery times from suppliers in March, while only 1% saw an improvement.
The CLC has also warned that shortages are likely to get worse before they get better and advised firms to plan for longer delays.