Housebuilder upgrades margin forecasts following strong sales and price increases
Vistry is forecasting adjusted profit of around £415m in 2022, following strong forward sales and rising prices.
The housebuilder, in a trading update for the calendar year to date, said its adjusted pre-tax profit – which excludes exceptional items – will be at the top end of its previous forecast range of £396.3m to £415m. Last year it reported adjusted pre-tax profit of £346m and total pre-tax profit of £319.5m.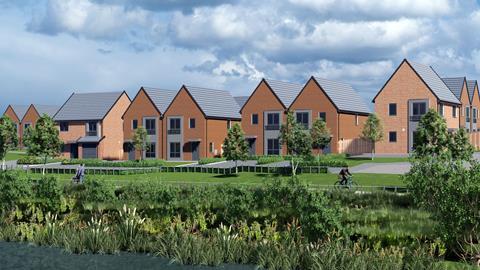 Vistry also said it expects its profit margins in both its housebuilding and partnerships divisions to be ahead of its previous targets.
The firm said its average weekly private sales rate is 0.86, 15% higher than for the same period the previous year, while mixed-tenure forward sales increased 28.9% to £2.5bn. It said 83% of its total forecast units for 2022 have now been secured.
Greg Fitzgerald, chief executive of Vistry, said: "Materials supply issues have eased and while we continue to see build cost inflation in line with previous assumptions, this is being more than offset by price increases.
"As a result, we are trading ahead of expectations and expect our margins for both Housebuilding and Partnerships in 2022 to exceed our previous targets."
See also>> Housing Today's Top 35 Housebuilders: exclusive data and analysis
See also>> House prices rise 1.1% in a month
Vistry also said its decision to sign Michael Gove's building safety developer pledge, under which it will spend an extra £35-£50m to remediate its blocks, will also cost it between £1.5m and £3m in extra administrative expenses.
Vistry's new chair, former pub company boss Ralph Findlay, will take over the hotseat today following the group's annual general meeting.
Findlay has been on the board of Vistry and predecessor Bovis Homes since 2015. He previously worked at pub and hotel chain operator and former brewer Marstons for 26 years, serving as chief executive for 20 years and finance director for six.
Vistry also today announced the appointment of Rowan Baker, group financial officer at construction firm Laing O'Rourke, to its board.