PineBridge Benson Elliot makes £188m offer for suburban rental firm
Listed Build to Rent developer Sigma Capital has announced it has agreed to a £188m offer for the business from US property-focused private equity firm PineBridge Benson Elliot.
The price for the business represents a premium of 35.6% to yesterday's closing share price.
Sigma has pioneered the development of suburban built to rent housing in the UK, and says it has developed a portfolio of 4,765 homes. With a further 2,000 homes under development, the firm claims it will soon be generating an income stream of nearly £50m per annum in rent.
PineBridge Benson Elliot said that, if the deal goes through, it will back Sigma in following through with a range of recently agreed additional long-term partnerships, including with Countryside and investment firm EQT to deliver thousands more homes in the future.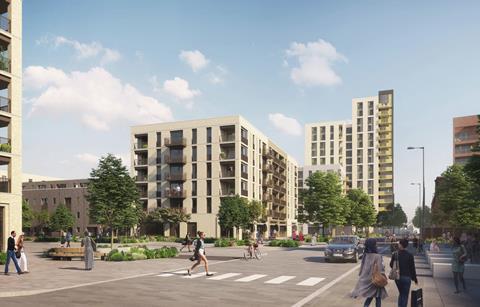 The offer, technically made by a vehicle – Six Bidco ltd – created by PineBridge Benson Elliot, will see the firm pay 202p for every share of Sigma Capital, and has been unanimously recommended to shareholders by the firm.
Sigma said it had created an independent committee of Sigma directors to consider the proposal because many of the board directors, given their shareholdings, have a personal interest in the deal going through.
The deal is the latest sign of private equity interest in the housebuilding sector, following the proposed £1.2bn sale of St Modwen to Blackstone last month, the £500m buyout of Urban & Civic by the Wellcome Trust late last year and the £647m purchase of later living housebuilder McCarthy & Stone by Lone Star in January.
Graham Barnet, chief executive and founder of Sigma, said: "We are delighted that our independent directors intend to recommend this offer from PineBridge Benson Elliot, having reviewed a number of options from other parties.
"The need for high-quality, professionally-managed rental homes remains a critical unmet need in the UK, and we look forward to developing our model further in this exciting next step with PineBridge Benson Elliot. "
Joseph De Leo, managing partner of PineBridge Benson Elliot, said his firm's capital backing would be an "effective catalyst for achieving Sigma's growth ambitions". He said: "Sigma operates in an important part of the market that has shown remarkable resilience over the past year and, in partnership, we can further build on the successful UK housing platform the Sigma team have established."
Sigma said it had already received irrevocable undertakings from shareholders accounting for 44.2% of the company to support the takeover proposal.
Alastair Stewart, research analyst at Progessive Research said the deal was "yet another swoop by private equity on the wider housebuilding sector, so far based on specialist development companies."