Modular homes specialist says development will be one of the largest MMC sites in the UK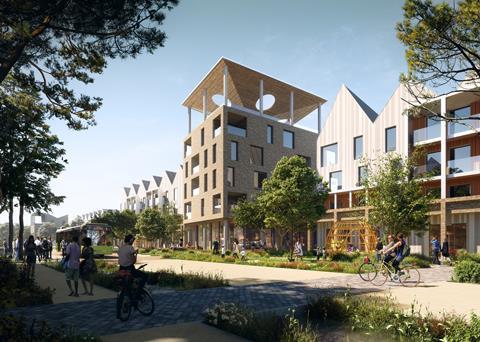 Urban Splash has been lined up to build more than 400 homes in the centre of Northstowe new town in Cambridgeshire.
The developer, which last week announced that Japanese housebuilding giant Sekisui House was taking a 35% stake in the business, said it would be building 406 homes for the project at its Alfreton, Derbyshire factory.
The architects on the scheme, located six miles from Cambridge, are Proctor & Matthews and Shedkm, which are designing half the development each.
Still to gain planning permission for the project, Urban Splash claimed it would be one of the largest sites in the country using modern methods of construction.
Phases two and three of the Northstowe scheme, which will see the development of 8,500 new homes including a new town centre, education and sporting facilities as well as leisure, office and commercial space, is being led by Homes England.
Three hundred homes across the wider Northstowe development are already occupied.
Nathan Cornish, a director at Urban Splash, said Cambridge was a new market for the firm, "but one that's already on the map for interesting and pioneering housing design.
"Our plans are to make well designed, modular housing more widely available and we are delighted to be working with our long-term partners Homes England to make this happen in Cambridge."
Stephen Kinsella, Homes England's executive director for land, said: "We're pleased to have Urban Splash join us at Northstowe and [we] look forward to working with them on the next steps for the development as they seek to secure planning permission."
Proctor & Matthews director Georgina Bignold said: "The design for the new town quarter of Northstowe will create a unique interpretation of a traditional fenland village inspired by the archaeology and rich history of the area."
The architect said the new homes would include a range of townhouses, mansion and mews blocks, later-living homes and mixed-use buildings. Architects Shedkm designed 200 of the 400 homes being laid out to a Proctor and Mathews master plan. P&M are designing the remaining 200 homes.
Last week Japan's Sekisui House announced it was investing £22m in Urban Splash House Holdings, a new operation established alongside Urban Splash, with a view to ramping up capacity at the UK group's modular homes factory in Alfreton from 200 homes a year to 2,000.
Homes England took a 5% stake in the firm worth just over £3m, while We Buy Any Car founder Noel McKee also invested in the operation, worth around 5%.