Multi-site plan to boost city centre

Swansea council has appointed Urban Splash as its preferred developer on a £750m regeneration project
The regeneration developer will lead on the work across several sites, including the redevelopment of a 23-acre civic centre into a mixed-use development with an unspecified number of new homes, leisure and hospitality and civic spaces.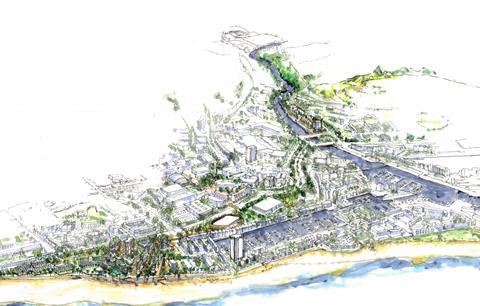 There will be new apartments in a 5.5 acre site at the former St David's shopping centre and a residential-led regeneration of a 7.5-acre riverfront site in the St Thomas area in the east of the city.
The exact number of homes were not specified in the announcement, but Rob Stewart, Swansea council leader, said the project will deliver "hundreds" of new homes.
Urban Splash will deliver the plan with the support of mixed-use developer Milligan, who will work in joint venture with Urban Splash on the St David's site, as well as Swansea Council and housing associations Pobl and Coastal.
Tom Bloxham, chair and founder of Urban Splash, said: "We have been really impressed with the ambition and vision of Swansea Council and look forward to working in partnership with this amazing city on the beach using our experience, capital and resources to strengthen their vision and deliver exceptional living, working and leisure spaces to help more people live well by design."
Urban Splash have developed over 60 regeneration projects throughout the United Kingdom over the past 25 years. In July the company's modular house building arm House by Urban Splash won approval for a 228-home scheme in Warrington.
Other House by Urban Splash projects include a 43 three-storey town house development at Northstowe, Cambridgeshire and plans to build 350 homes at Wirral Waters, Merseyside.