10 housebuilders have now publicly confirmed they are signing up to Michael Gove's deal as 53 firms 'asked to pay up'
This article was updated at 7.50am on 7th April with the latest housebuilder announcements
Bellway, Vistry and Countryside have confirmed they are signing up to the government's deal to pay fire safety remediation costs on buildings between 11m and 18m in height.
This mornings announcements bring the number of firms publicly confirming they are signing the cladding fund 'pledge' to 10.
A total of 53 companies are understood to have been asked to pay up by the Department for Levelling Up, Housing & Communities (DLUHC) although this figure has yet to be confirmed by the government.
Bellway, in common with the other signatories, confirmed it will remediate tower blocks over 18m in height it had developed over the past 30 years, without using money from the government's Building Safety Fund. It said it has estimated the extra cost of doing this work to be £300m, on top of £186.8m already set aside for remediation since 2017."
Bellway, in today's statement said its "robust" £300m estimate assumes the housebuilder incurs the whole cost of remediation. However it added:" The group has already recognised total recoveries of £29.7 million since 2017 and will continue to pursue further recoveries from suppliers, subcontractors, professional advisors and others, where they have a liability, although we note that these are likely to be unavailable where contractual limitation periods have expired."
Countryside also announced it has signed the pledge and said it has built 290 homes of 11m or more over the past 30 years. The group has already spent £41m on remediating 69 of these buildings built between 2008 and 2017. It said however that many of the 290 buildings will not require remediation and at this stage it cannot quantify the cost of further liabilities. It said the cost of covering works originally planned to be covered through the government's Building Safety Fund is around £24m.
Vistry said that it expects its extra costs from meeting the pledge to be between £35m to £50m, on top of its existing fire safety spend of £25.2m.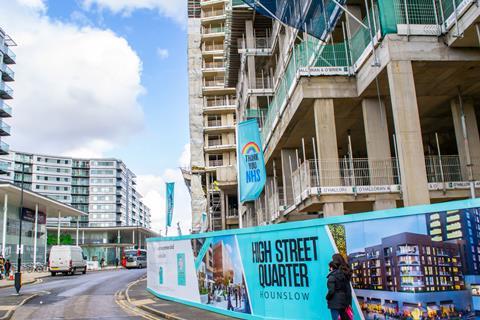 The announcements follow Barratt, Britain's biggest housebuilder, signing up yesterday.
It said the move will cost it an extra £350m to £400m and this will be reflected in its results for the year to 30 June. It said it was reviewing a further 211 buildings on top of 19 already remediated.
The decision to sign the deal brings the total amount Barratt is spending on remediation to between £429m and £479m.
Barratt added: "We intend to seek recoveries from other entities involved in the development process who may have a responsibility to share the costs of remedial works, however this recovery is uncertain and therefore has not been included in our expected incremental costs."
Yesterday, Redrow and Gleeson said they were also signing up to the deal.
Earliet this week Berkeley and Taylor Wimpey said they had signed the pledge to remediate all buildings with fire safety issues over 11m in height.
See also>> Gove's cladding deal, what does it mean for the sector?
Announcing its decision, Redrow, which in February criticised Gove's threats to stop housebuilders who didn't help pay for repairs, said: "Historically Redrow has not been a major constructor of high rise apartments. The majority of our high rise apartment schemes were built between 2000 and 2010
"In signing up to the pledge we will be remediating all the buildings in which we were involved, whether or not we constructed them, going back 30 years. This is a highly complex matter and the exact remediation work required and for the exact number of buildings will take time to determine. Our existing provision for fire safety in high rise buildings is £36m. Based on the latest information we have and the work done by our internal teams we believe an additional provision of £164m is required as a result of the pledge."
Housebuilders to announce they've signed
Taylor Wimpey
Crest Nicholson
Persimmon
Gleeson
Redrow
Berkeley
Barratt
Vistry
Countryside
Bellway
Correct as of 8am, 7th April
It said it would count the £164m as an exceptional cost in this year's annual results and added "where possible, [we will] pursue recoveries from main contractors, warranty providers and other third parties".
Gleeson said it was "involved in" 15 buildings over 11m in height but did not believe there to be any material fire safety issues. It said it would further assess the blocks by 30 June.
The announcements follow those initially made by Persimmon and Crest Nicholson yesterday. Persimmon said it would cost it £75m while Crest Nicholson estimated the figure to be £80m.
Taylor Wimpey has estimated that its latest commitment to fire safety will cost it a further £80m, which it says will bring the total amount it has provided for remediation works to about £245m. Berkeley did not put a price tag on what the work will cost it.
DLUHC is expected to announce details of the deal and the signatories to it later this week but Persimmon confirmed yesterday it includes a pledge from housebuilders to fix 'life critical fire safety issues' on buildings above 11m in height they have developed in the past 30 years. It also includes a promise not to use money from the government's Building Safety Fund to do so.
The details were first revealed by Building's sister publication Housing Today last week.