London apartment specialist wins Next Generation sustainability ranking for second year running
London-based apartment housebuilder Telford Homes has been named the UK's most sustainable housebuilder for the second year in a row by the government-backed Next Generation initiative.
The sustainability benchmarking venture, run by consultancy JLL but supported by Homes England and the UK Green Building Council (UKGBC), found that Telford scored highest after taking into account both publicly available information on sustainability and a bespoke assessment, with a score of 94.
The UK's biggest housebuilder Barratt was again in second place with 89, although it scored highest on publicly available information alone.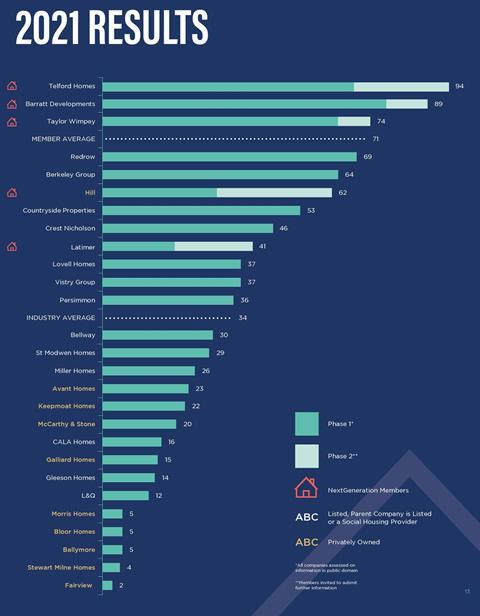 Taylor Wimpey saw its position in the ranking (see table, right) increase from fourth to third, after Lendlease, which had tied with Barratt for second place last year, was not included in the ranking this year. Taylor Wimpey was followed by Redrow in fourth and Berkeley Group in fifth
South-east housebuilder Hill increased its score by 14 points, increasing its ranking from ninth to sixth, leapfrogging Countryside and Crest Nicholson.
The Next Generation benchmarking initiative works by ranking housebuilders on their publicly available information across more than 80 separate sustainability criteria. Firms who pay for membership of the scheme are then also able to provide additional "internal sustainability information" directly to it, in order to see if they can increase their ranking.
The average score among the five "members" of the Next Gen initiative – Telford, Barratt, Taylor Wimpey, Hill and Latimer, the development arm of housing association Clarion – was 71, while the average score of the 27 ranked developers overall was just 34.
>> See also: Homing in on net zero: Do housebuilder pledges make a difference?
>> Don't be disheartened by COP26, there's much housebuilders can do
Redrow was the best performing non-member, scoring 69, with Berkeley next in line. The ranking showed the greater progress on sustainability of listed housebuilders, with all those listed directly on the stock exchange scoring above average, bar Bellway and Gleeson.
Hill was by far the highest rated privately-owned housebuilder, scoring 62, with Avant Homes the next best, scoring just 22.
The award for Telford marks the second year in a row the CBRE-owned housebuilder, which specialises in build to rent schemes in east London, has won out. Jon Di-Stefano, chief executive of Telford Homes, said he was delighted at the news. "COP26 has brought into sharp focus the pressing need for the property industry to accelerate their efforts in relation to the climate crisis. This award is recognition of the role we are playing in reducing our carbon footprint across our portfolio, as we strive to become a net-zero carbon company by 2030," he said.