Detailed plans for the former MG Rover site in Birmingham are with the council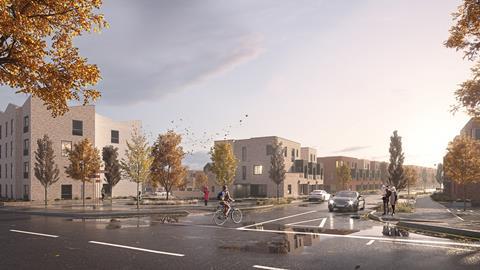 St Modwen has revealed plans for building up to 350 all-electric homes on the former site of the MG Rover plant in Birmingham.
The Birmingham-based developer secured planning permission for the homes on the Longbridge site in 2021 and the council now has the detailed plans. It is expected if the local authority gives the green light, work will start on the site this autumn.
The homes are expected to be 100% gas free and will be in a network supplied by a dedicated 'smart grid', under which electricity usage will be tracked.
Technology will allow the network to react to changes in usage and ensure more efficient consumption of energy. The smart grid design has been developed with energy infrastructure specialists SNRG. St Modwen said the use of smart grids in this way is a housing industry first.
Blackstone-owned St Modwen, which earlier this year announced it wants to double its housing supply, says this is the first time a major developer has powered homes in this way.
Sarwjit Sambhi, chief executive of St Modwen, said: "Every organisation needs to be taking steps to deliver more sustainable products and services, but at St Modwen we have taken leaps by introducing carbon-negative homes and smart-grid powered developments."
Andy Street, Mayor of West Midlands Combined Authority, said: "These new homes will be wonderful places to live, boost energy efficiency and affordability and help us to tackle the climate emergency. Longbridge
Alongside the homes on the Birmingham site will be a large veterinary hospital, on which work has already started. The whole site has benefited from a £20m boost of infrastructure investment in partnership with the West Midlands Combined Authority.
St Modwen's launched its first carbon-negative homes earlier this year. The homes are so airtight they can return power to the UK grid.
The wider Longbirdge regeneration scheme will see St Modwen deliver 3,000 new homes.