Scottish housebuilder paused new contracts in sector last year after losing money on contracts
Springfield has re-entered the affordable housing market on the back of easing cost inflation and an increase in how much the Scottish Government is prepared to pay to subsidise the development of new affordable homes.
The Scottish housebuilder stopped entering new large long-term affordable housing contracts in September 2022 in order to protect its margins, which had been hit by the delivery of two large contracts signed in 2020 on the expectation of lower costs.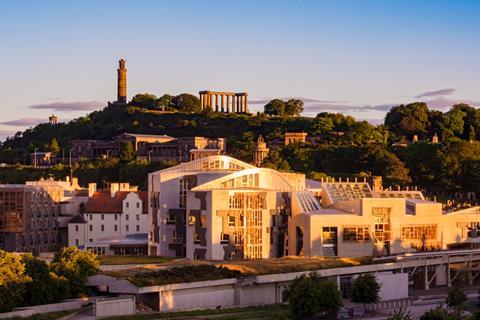 In its annual accounts, published yesterday, the group revealed it had restarted its engagement with affordable housing providers, and had signed new contracts worth £9.7m.
It comes after the Scottish government increased its affordable housing investment benchmarks - the maximum amount it is willing to pay to subsidise affordable housing schemes - by 16.9% in June.
The latest accounts, for the year ending 31 May 2023, showed pre-tax profit had dropped at the housebuilder, despite a bump in revenue.
Springfield reported turnover of £332m, up 29% from £257m, while pre-tax profit was 22% lower than the year prior – sitting at £15.3m compared with £19.7m, despite the higher revenue.
It comes after the business issued a profit warning last December, which it blamed on falling demand and high inflation.
The strong growth in turnover came on the back of its acquisitions of Tulloch Homes and Mactaggart & Mickel Homes, which it took over in the middle of 2022 and the start of 2023, respectively.
Private housing remained the largest contributor to group revenue – accounting for 76.3% of sales – and the firm posted a record year of completions, finishing 1,301 homes against 1,242 the year prior.
The group has also withdrawn its plans to expand its PRS housing activity after the Scottish government's introduction of rent controls.
Addressing the current trading outlook, the report noted "significantly lower levels of reservations in private housing due to demand being impacted by continued high interest rates, mortgage affordability and reduced homebuyer confidence".
Chief executive Innes Smith said: "Trading conditions have remained tough into the new financial year as private housing reservations continue to be impacted by reduced homebuyer confidence.
"We do not expect to see any material improvement in homebuyer confidence before next Spring.
"Our priority is to maximise cash generation to reduce our debt to ensure that we maintain the value of our business.
"Accordingly, we are pausing all speculative private housing development. We will build based on sales and not sell based on build.
"We are actively pursuing land sales and will further reduce our cost base where necessary. We are also encouraged by the negotiations we are now having in affordable housing, which has strong cash flow dynamics."
The business has secured an additional £18m loan and 12-month extension to its overdraft facility to ensure it has sufficient headroom in the short-term.
It has also said it will not make dividend payments until its £67.7m debt is "materially reduced".
For full-year 2024, the group is expecting an adjusted pre-tax profit of between £10m and £14m.