Report suggests dozens of housing policies to promote levelling up
A re-focusing of Homes England towards funding conversion of existing buildings is needed to achieve government's levelling up aim, a new report has suggested.
The report, titled No Place Left Behind, published by the Create Streets Foundation's Commission on Prosperity and Community Placemaking, and written by former Number 10 policy advisor Toby Lloyd, also suggests policies to enable a mass transfer of empty shops and buildings to communities.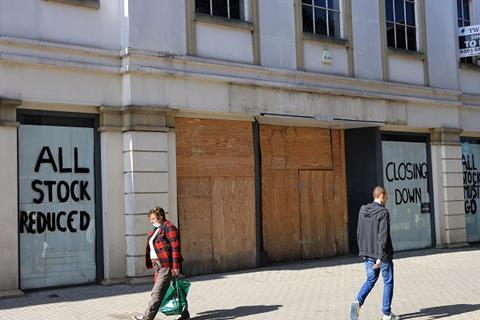 In total, it makes dozens of suggestions of how the government can achieve its key aim of "levelling up" the United Kingdom (see below).
The report comes hours after the government announced the housing ministry will be renamed the Department of Levelling Up, Housing and Communities (DLUHC) and given a wider remit.
The commission's report said converting an existing building is on average £670 cheaper (35%) per square metre than building afresh.
It said: "If Homes England's £1.1bn development finance commitment was used to support conversion rather than new build, between 67,000 and 70,000 homes could have been created rather than 55,000.
"This is the equivalent of 5% of the government's annual housing target with no additional government financial support.
"Important secondary benefits of more town centre living include the fact that it can be easier for older people to stay physically active for longer, can support home working requirements and reduces car-dependency for many journeys. Encouraging town centre living and systemic repurposing of many shops is the right thing to do - but it needs to be done correctly".
Housing Secretary Robert Jenrick said earlier this year that Homes England would be "reset" to focus more on regeneration.
The report suggests new housing and better transport connections are not enough on their own to deliver on the government's promise to spread wealth and opportunity to 'left behind' towns.
It suggests a new Community Right to Buy to giving communities the power to buy empty or derelict buildings, and for dedicated 'improvement districts' to reinvent town centres and residential neighbourhoods along with a £2bn Community Wealth Fund to support the most left behind places to develop their own solutions.
Lloyd said: "To replace spirals of neighbourhood decline with a virtuous circle of wellbeing and prosperity we have to invest in the physical fabric of local places and the social fabric of local communities – and trust communities themselves to lead it. No place should be left behind."
Nicholas Boys Smith, founder of Create Streets, said: "If the government see levelling up as constructing fast roads linking new jobs to new housing estates sprawling through our countryside they will have missed a vital opportunity to invest in our existing communities and grow sustainably."
See also>> New builds alone are not the answer, Mr Gove
No Place Left Behind: The report's key housing proposals
Create Community Improvement Districts for town centres in left behind places
Strengthen national planning policy support for 'town centre first' policies, keep the new use classes under review, and allow councils to use Article 4 opt-outs from PDRs as part of comprehensive town centre regeneration plans
Extend the proposed Right to Regenerate to allow councils to require improvement to eyesore buildings and tackle speculative dereliction, and give communities the right of first refusal to acquire derelict public land and buildings
Reform compulsory purchase law to enable more strategic plan-making and land acquisition in and around towns, and to prevent speculative pressures from undermining regeneration
Launch a £3.8bn Social Housing Decarbonisation Fund immediately
Grant greater flexibility in the use of the Recycled Capital Grant Fund for retrofitting works 2. Launch a national programme of neighbourhood retrofitting in parallel with social housing decarbonisation
Reshape the next phase of the ECO scheme to support area-wide retrofits for owner occupied housing, alongside social housing retrofitting plans and focusing on left behind places first
Cut VAT to zero on both the labour and materials elements of core improvements to existing homes, in line with the treatment of new build development
Reboot Homes England to be a driving force for regenerating left behind neighbourhoods and decarbonising the housing stock
Neighbourhood Improvement Districts, analogous to Community Improvement Districts, for residential areas requiring major retrofitting and improvement works
Reduce the Local Housing Allowance payable on substandard private rented stock in Neighbourhood Improvement Districts.
Fund a £1.3bn National Housing Conversion Fund to support transfer of properties in the lowest value housing markets to long-term, not-for-profit owners which commit to retrofit them to meet Government targets, prioritised on Neighbourhood Improvement Districts
Renew the successful Community Housing Fund
Expand support for private social investment in left behind neighbourhoods, by providing match funding on a first loss basis for social investment in retrofitting funds.