Beefed-up department to work alongside levelling up taskforce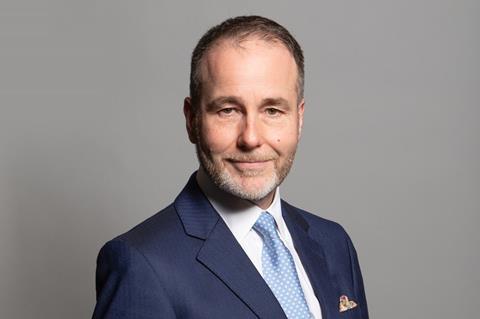 Chris Pincher has been re-appointed housing minister in the renamed Ministry for Levelling Up, Housing & Communities (MLUHC).
The appointment was confirmed over the weekend, quashing speculation that the 51-year-old (pictured), who has served in the post since February last year, will be moved on.
Lord Stephen Greenhalgh also retains his position as minister for building safety. He will serve under new secretary of state Michael Gove and alongside other new appointees Kemi Badenoch, who will serve as minister for equalities and planning reform critic and former adviser Neil O'Brien who will join in a junior role.
The department has been renamed, from Ministry for Communities & Local Government, as part of efforts to underline the government's pledge to spread wealth and opportunity to all parts of the United Kingdom.
A government announcement over the weekend suggested the revamped department will have a much bigger remit than previously.
"The secretary of state will drive cross-Whitehall efforts to deliver a programme of tangible improvements in every part of the UK as we build back better from the pandemic, and deliver on the people's priorities", a spokesperson said.
The government also announced that a new levelling up taskforce, reporting to Gove and the prime minister Boris Johnson, will be spearheaded by former Bank of England economist Andy Haldane, who will join the Cabinet Office on a six-month secondment from the Royal Society of Arts, Manufacturers and Commerce.
At-a-glance: the key figures in the new-look department
Michael Gove: secretary of state for levelling up, housing & communities
A political heavyweight and reformer who previously served as shadow housing minister under David Cameron. Click here to read seven things we know about Gove and his views on housing.
Chris Pincher: minister of state for housing
Served as housing minister since February 2020. He is a former IT consultant and a member of the Energy & Climate Change committee. He previously served as an assistant whip at the treasury and deputy chief whip.
Lord Stephen Greenhalgh: minister of state for building safety, leasehold, resilience & emergencies
Lord Greenhalgh is vastly experienced in business and local government, having served as leader of Hammersmith & Fulham Council from 2006 to 2012. He also has good relations with the prime minister, having previously been appointed by Boris Johnson as his deputy mayor for policing and crime. Since March 2020 he has served as a minister of state jointly at the Ministry of Housing, Communities and Local Government and the Home Office.
Kemi Badenoch: minister of state for levelling up and minister of state for equalities
Badenoch will serve across the new MLUHC as levelling up minister and at the foreign office working on equalities. She was previously a board member at Charlton Triangle Homes housing association.
Neil O'Brien: parliamentary under secretary of state
It is not yet clear exactly what O'Brien's role in the department will be specifically. But the former policy advisor is an adherent of localism and has been advising the prime minister on 'levelling up' since May. As we report here, he has also been a critic of the government's planning reforms.
Eddie Hughes: parliamentary under secretary of state for housing and rough sleeping
Hughes retains his junior ministerial role with a particular focus on rough sleeping. The Birmingham-born MP has was previously a director of YMCA Birmingham for development and asset management and chaired Walsall Housing Group.
Jeremy Pocklington, permanent secretary, MLUHC,
Pocklington joined the department in August 2018 after stints working on energy and security policy at the Department for Business, Energy and Industrial Strategy and at the Department of Energy and Climate Change.
Andy Haldane: head of levelling up taskforce, Cabinet Office
While Haldane is joining the Cabinet Office, rather than MLUHC, he will presumably be working closely with Gove and the other ministers as he leads the taskforce, whose exact remit has not yet been made clear. Haldane is a former Bank of England economist
More on the reshuffle and the appointment of Michael Gove