Policy advisor Neil O'Brien kicked off backbench unrest over 'mutant alogrithm' last year
The prime minister has appointed a key critic of aspects of the government's planning reforms to be a minister in the communities department.
The housing ministry (MHCLG) confirmed that Boris Johnson had appointed Neil O'Brien, Conservative MP for Harborough and founder of the centre-right think tank Onward, as parliamentary under-secretary in the department.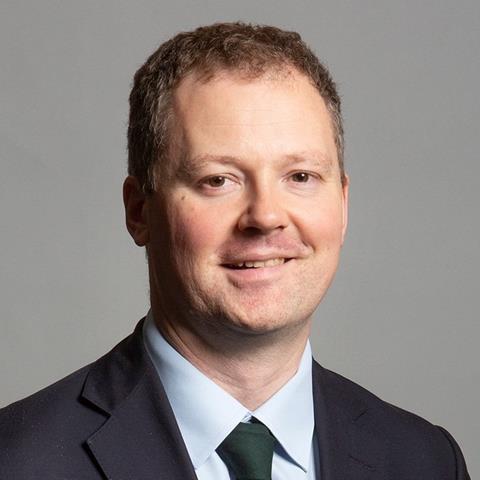 O'Brien (pictured) last year led the rebellion of backbench Conservatives against proposed changes to the standard method for calculating housing need, which the critics dubbed the "mutant algorithm".
The appointment comes amid reports that the new housing secretary, Michael Gove, is set to press the pause button on planning reforms as he reviews what has been proposed, following vociferous criticism of the plans.
Media reports suggest O'Brien, a long-time advocate of localism, who has been an advisor to the prime minister on the government's "levelling up" agenda since May, will tackle the same brief at the housing ministry.
However, a ministry spokesperson said the reshuffle was ongoing, and that it was unable to say what O'Brien's portfolio will be. It is still unclear whether the housing minister, Christopher Pincher, will remain in post, with no announcement made on his future.
Incredibly honoured to be appointed as a Minister at MHCLG & looking forward to working to fantastic @michaelgove

— Neil O'Brien MP (@NeilDotObrien) September 16, 2021
O'Brien kicked off Conservative discontent over the proposed changes to the standard method for housing need with a deeply critical blog post on the Conservative Home website, which was also the first to compare the standard method to the controversial algorithm which had been applied to last summer's school exam results.
Following significant criticism of the plans, they were dropped.
>> See also: A mountain of priorities: What's in Gove's housing in-tray
>> See also: Seven things you should know about Michael Gove and housing
Writing on Twitter, Conservative MP George Freeman, another planning reform critic, welcomed O'Brien's appointment, saying his appointment alongside Gove represented a "dream team for localist regeneration, renewal and levelling up".
A parliamentary under-secretary is a junior ministerial role beneath both secretary of state and minister of state level.
Brilliant appointment - so well deserved Neil. You & @michaelgove @KemiBadenoch @mhclg Dream team 💥for Localist Regeneration Renewal & LevellingUp 💥

— George Freeman MP (@GeorgeFreemanMP) September 16, 2021
O'Brien is a former director of Policy Exchange, who acted as special advisor to chancellor George Osborne between 2012 and 2016, and then to Theresa May during her time as prime minister. He set up the Onward think-tank in 2018, and has been a strong defender of the need for lockdowns to tackle covid-19.
In 2018 O'Brien published a planning "green paper" through Onward which laid out a very different vision for the planning system than proposed currently by the government. It focused on empowering local authorities to assemble land to focus major development in existing built-up areas.
O'Brien's appointment comes as the Guardian revealed that it "understood" Gove was "minded to pause and undertake a complete review of the plans, in consultation with backbench colleagues and industry stakeholders".
An MHCLG spokesperson said: "The PM has appointed Neil O'Brien MP as a new parliamentary under-secretary of state at MHCLG. Ministerial appointments are still under way. Full details of portfolios will be released in due course."