Agency puts out call to recruit three new non-execs
Homes England is recruiting three new non-executive directors to plug skills gaps on its board, including in local government.
The agency, which oversees the administration of the £12bn affordable housing programme, is seeking 'senior leaders' in a range of areas, to expand its board from nine to 12 members.
It wants to hire somebody with local government experience, following the departure of Keith House, leader of Eastleigh Borough Council, last year.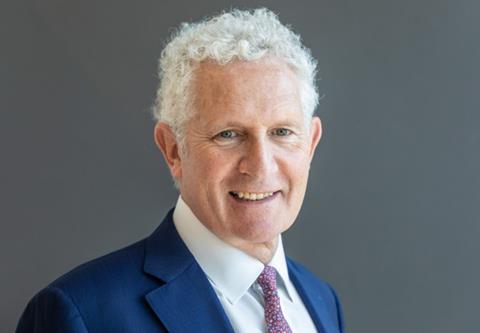 The agency, chaired by Argent co-founder Peter Freeman (pictured), has put a focus on helping local authorities that lack skills or resources to produce housing plans. In May it opened its new Local Government Capacity Centre to help councils produce their offers to government. The centre offers support such as online resources, best practice tools and a "one-stop-shop" of information on funding opportunities.
It is also looking for expertise from the housebuilding and affordable housing sectors, in order to strengthen the board and ensure good succession planning as existing board members come towards the end of their term and leave.
The recruitment comes at a time of huge change for the agency.
Freeman was appointed chair of Homes England last October, and has been tasked with leading a review of the agency's operations to ensure it can support the government's 'Build Back Better agenda'.
In what Housing Secretary Robert Jenrick has called an 'important reset', the agency's focus is likely to shift more towards regeneration.
Homes England appointed former banker and housing association chief executive Peter Denton as its chief executive in June, following the surprise departure of Nick Walkley.
Homes England is also working with the Building Research Establishment and the Design Council to draw up strict new rules for developments that it funds. It is understood this is likely to mean new standards for environmental and design standards.
See also:
Who is Peter Denton? Six things you need to know about the new Homes England boss
Homes England considering tough new green building standards
Denton confirmed as new Homes England chief executive
Who is on Homes England's board currently?
Peter Freeman (chair)
Formed the Argent Group of property companies with his brother in 1981. Argent is particularly known for major mixed-use projects like Brindleyplace in Birmingham, and King's Cross and Brent Cross Town in London. Freeman has also been a non-executive director on several other property companies and a trustee of a number of charities connected with education, combating intolerance, and public performance art.
Mark Rennison (deputy chair)
Mark Rennison is the former finance director for Nationwide Building Society. He also chaired the subsidiary company at Nationwide which managed the Oakfield project to build a new housing community in Swindon. Prior to joining Nationwide he worked for PwC for 25 years including spending time as an audit partner in their banking practice in London.
Simon Dudley - Senior Independent Director (SID)
Simon Dudley is chair of the Ebbsfleet Development Corporation and a former leader of Windsor and Maidenhead Council. He also has a commercial background having worked as executive director of Global Capital Markets at Arcapita Ltd and managing director at Citigroup Global Markets Limited.
Stephen Bell
Stephen Bell has substantial experience in banking and financial services. He has been involved in property, consumer and asset finance across numerous jurisdictions and has held many senior roles leading risk management, restructuring and transformation. He has held the role of group chief risk officer and board director for a number of institutions over the last decade, including high street banks and in the specialist finance sector.
Duncan Sutherland
A practitioner with over 35 years' experience in property, housing, investment, regeneration and development with particular emphasis on public/private delivery partnerships involving government, local government, local communities and private investment. Sutherland was involved in setting up and operating a £1 billion PRS fund investing in the UK and the UK's first successful PRS housing Real Estate Investment Trust (REIT).
Teresa O'Neill
Councillor Teresa O'Neill OBE has been the Leader of Bexley Council since 2008 & a Bexley Councillor since 1998. She is also a vice-chair (Leader of the Conservative Group) on London Councils & a Conservative Peer for the LGA. Previously she's been a member of the London Finance Commission, under the last two London Mayors, the London Health Commission & was Boris Johnson's advisor for Outer London relations.
Sadie Morgan
Sadie Morgan is a founding director of leading architectural practice dRMM. Over her 25-year career she has advocated exemplary design and architecture. She is a Commissioner and Design Group Chair of the National Infrastructure Commission and is the London Mayor's Design Advocate.
Olivia Scanlon
Olivia Scanlon has a background in financial services, where she has almost 20 years of experience in general finance and investment as well as real estate development finance. She is currently the chief operating officer at Orchard Global Asset Management LLP.
Vanessa Murden
Vanessa Murden has extensive senior executive expertise within the financial services industry, including Travelex, Western Union and Lloyds. She is currently the chief operating officer for Lloyds Banking Group's retail division.
Source: Homes England