Centre for Policy Studies document claims revamp is necessary to build more retirement housing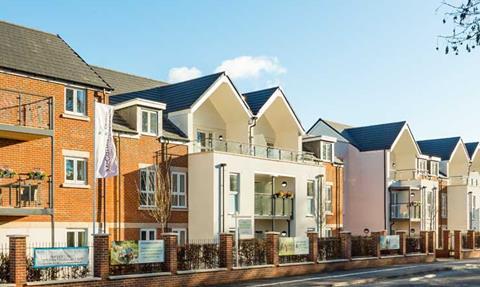 The country's planning system needed to be radically overhauled to encourage developers – and local councils – into building more care and retirement homes for the elderly, a new report has argued.
The report, "Fixing The Care Crisis", written by Conservative MP Damian Green for think-tank the Centre for Policy Studies, argued that local authorities were wrong to regard proposed retirement home developments as if they were standard homes.
With a rising aged population – government forecasts suggest that by 2066 more than one in four people in the UK will be over 65 – the planning system needed to change to reverse councils' approach, Green's report argued.
"In the long run, this should help save the public purse serious sums of money," said the document, published a week after a House of Lords' Select Committee argued that a new use class be established within the planning system to encourage construction of more specialist homes for the elderly.
"For example, if over the next five years we managed to increase the number of owner-occupied retirement housing units being built to 30,000 a year, this would save £126m in the first year and £1.26bn by year 10, given [Homes & Communities Agency] figures of £3,500 in health and social care costs per person per year."
A report by Knight Frank published last year estimated there were only 9,540 retirement units currently in the pipeline.
The CPS report also recommended that local councils be set an annual target of the number of retirement homes to be built on their patch, with a strategy put in place to back up how this would be achieved. The government should consult on what kind of action could be taken against those local authorities which missed their target, it added.
Green argued that if planning policy could act as an inducement to deliver more retirement housing "the range of builders entering the market and in turn the diversity of choice available to older homes buyers would kick-start a renaissance in the retirement sector".
He reckoned a more streamlined planning regime "would also encourage existing mainstream developers to enter the retirement market as part of their portfolio on a development, thereby supporting the diversity of mix recommended in the Letwin Review".
Welcoming the CPS report, Gary Day, group land and planning director for retirement home builder McCarthy & Stone, said existing planning policy had limited the number of specialist properties being built, "which in turn has added to the social care crisis".
Day added: "We are therefore delighted to see more groups and politicians now recognise both the benefits and challenges of our sector and we look forward to working with government to take these recommendations forward."
Jane Ashcroft, chief executive of retirement home provider Anchor Hanover, agreed with the report's argument that requiring every council to have a target of housing for older people, together with planning reform to help achieve it, would be a "significant step forward".
"More retirement housing would enable older people to move into age-appropriate accommodation which helps other people, including first time buyers, move up the property ladder."
"We urge the government to publish the much-delayed social care green paper as a matter of urgency. The system can't be allowed to continue to fail the people it is meant to serve."
Describing use classes as "very blunt tools" Richard Blyth, head of policy and research at the Royal Town Planning Institute, said more clarity around policy was required.