County council's offsetting plan will see developers pay £14k per tonne of phosphate pollution to allow schemes to go ahead
Plans for around 2,200 homes are currently held up in Herefordshire due to "nutrient neutrality" requirements while the council develops a mitigation strategy, the council has admitted.
The admission is the latest following renewed advice from Natural England over nitrate and phosphate pollution in protected river catchments which has provoked development moratoriums in up to 74 local authorities across England.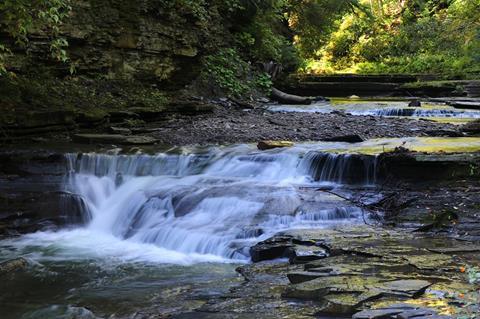 Herefordshire council said in official papers published last week that it had decided in 2019, following Natural England advice, that it could not permit any development in the Lugg, Frome or Arrow river catchments that did not demonstrate 'nutrient neutrality', because of the risk of nutrient pollution damaging the Lugg Special Area of Conservation.
Since then, it said, there had been 199 planning applications which were held up by the development moratorium, totalling 2,217 homes. The council, which is in the middle of creating a system of Phosphate Credits to allow development to recommence, added in the papers that it believed that "other developers have chosen not to submit applications until credits become available and therefore the unmet demand for credits may well be higher than this."
Herefordshire said it will spend around £3m building a new "integrated wetlands" within the Lugg river catchment in order to remove phosphate pollution from the rivers, thereby offsetting the impact of new development, with a further £2m cost anticipated for ongoing maintenance. Developers seeking planning permission will pay "phosphate credits" through which Herefordshire will attempt to fully recover the cost of this new infrastructure.
See also: Solving nutrient neutrality puzzle is a key test of ministers' housebuilding commitment
See also: Revealed: Full list of councils set to be affected by nutrient neutrality rules
Herefordshire said it expected the annual cost to a developer of mitigating a tonne of phosphate pollution to be £14,000 plus VAT, and that it wanted the policy to apply to applications received after November last year.
The Council has purchased a site and obtained planning permission to create an Integrated Wetland, and Bentley, a specialist environmental construction company, have been commissioned, through the Council's procurement processes, to build it. However, the council papers did not make clear when it expected the wetlands to be up and running.
The council's cabinet which considered the papers agreed to progress the plans for the phosphate credits scheme, but said the council could not proceed with the sale of credits until a further report has been provided to Cabinet updating on Nutrient Certainty of the integrated wetlands.
The Home Builders Federation has estimated that plans for around 100,000 plans are on hold nationally because of the nutrient neutrality issue, which stems from the implications of a 2019 European Court ruling over the duty of care to protected sites. However, developers argue that they are bearing the brunt of the issues caused by the nutrient pollution problem, despite it being overwhelmingly caused by poor farming techniques and inadequate water treatment works.
Cllr David Hitchiner, leader of Herefordshire Council, said he recognised that it had been a "very difficult time for developers", and said he wanted to "thank everybody affected for their patience".
"This is a ground-breaking solution to tackling a national problem – Herefordshire is pioneering a global first in the use of Integrated Wetlands to address phosphate pollution and offset development.
"The progress that has been made is solid. We have identified two further sites in addition to Luston, we are actively looking for more and are welcoming proposals from developers.
Mandy Thorn, chair of the Marches LEP, said: "This is a truly innovative project which will help preserve and enhance our environment whilst allowing the levels of development needed to grow the Marches economy in a sustainable way. We look forward to working with Herefordshire as the scheme continues."
Last week the HBF issued a report, compiled by planning consultancy Lichfields, which argued that Natural England's advice overstated the impact of new housing on nutrient pollution.