17 social housing providers join forces to use newly devolved housing powers to tackle the housing crisis
A total of 17 north-east housing providers have announced the formation of a partnership today, which will see them join forces and work alongside the Mayoral Combined Authority to deliver more social homes in the region.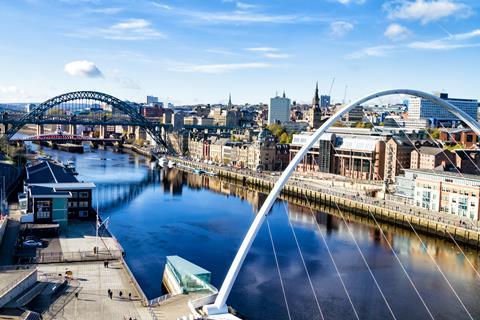 The new North East Housing Partnership will work alongside the mayoral combined authority to increase social housing supply
The North East Housing Partnership (NEHP) is made up of housing providers located in seven local authority areas covered by the new North East Mayoral Combined Authority (NEMCA).
The housing asssociations that have joined the partnership are Gentoo, Believe Housing, Bernicia, Karbon Homes, Castle & Coasts, Thirteen, North Star, Home Group, Livin, Durham Aged Mineworkers' Homes Association, Tyne Housing, Johnnie Johnson Housing, South Tyneside Homes.
Local authorities have also joined, including Gateshead Council, North Tyneside Council, Northumberland County Council, and Newcastle City Council.
The 17 partners own and manage over 214,000 homes in the region, housing around one in six households in the new mayoral combined authority area.
The new partnership mirrors similar arrangements formed in other combined authority areas, such as the Greater Manchester Housing Partnership and the West Yorkshire Housing Partnership.
Earlier this month, the North-east's seven councils accepted a devolution deal, which will give them control of a £48 million per year investment fund over 30 years.
NEMCA will elect a mayor in May 2024 and receive new powers on transport, housing and skills.
It will have powers to acquire and dispose of land to build houses and commercial space and infrastructure. They will be able to invest to deliver housing for the area.
Paul Fiddaman, chair of the NEHP and chief executive of Karbon Homes, said: "With new powers and funding, managed and delivered close to local needs, we have the opportunity to take on some of the deep-seated problems that have long held us back.
>> See also: Being EPIC : talking housing professionalisation with new CIH president Jill Murray
>> See also: Not settling for a quiet life – an interview with Mark Henderson
"However, to make a real success of devolution, anchor institutions across the region need to get behind it, lend their enthusiasm and expertise, and align their own work and investment with that of the new combined authority. That's what the North East Housing Partnership is all about."
John Johnson, vice chair of the NEHP, said: "When we invest together, work together, and plan together, we can achieve economies of scale, shape supply chains, regenerate communities, decarbonise our region, create and prepare people for jobs and support longer, healthier lives. If we align ourselves in each of these areas with the new combined authority, we can achieve even more."