Lucy Frazer promises to simplify planning system in first speech as housing minister
Lucy Frazer has vowed to reduce planning delays and costs for housebuilders in her first speech since being confirmed as housing minister.
Frazer, speaking at the Federation of Master Builders (FMB) conference in London last night, said planning reform is a 'major area of focus' for the government, but cautioned that it would take time to modernise the 'byzantine' system.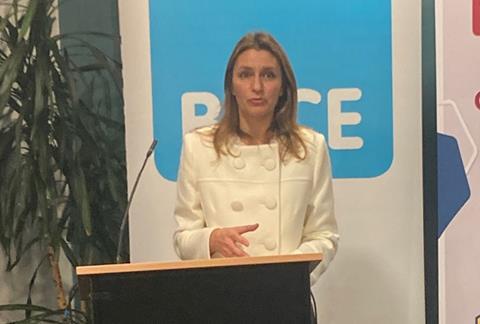 Frazer, who was confirmed as housing minister by the government yesterday after days of confusion, told the FMB's largely small and medium enterprise (SME) audience that the government is still seeking to change planning through the Levelling Up and Regeneration Bill, which was tabled under the Johnson government and is currently going through parliament.
She said: "The bill will support SMEs to build more homes by making the planning system easier to navigate, faster and more predictable.
"It definitely won't happen overnight but our aim absolutely is to reduce delays and costs for housebuilders. We know uncertainty is always the enemy for business and we want to strip that uncertainty away and we are going to reform the planning system, giving SME housebuilders and communities more certainty of what the future holds in their area."
In her short speech Frazer did not, however, elaborate on any specific policy detail in the bill or whether the government will seek to significantly change the legislation from its current form.
She also did not answer Housing Today's questions about whether the government will back an expected amendment from backbencher Theresa Villiers to abolish central centrally-set targets for housing delivery, saying it was 'too soon' after her appointment, but said she would discuss it at a later date. Rishi Sunak has previously pledged to remove centrally-set targets, but the new housing secretary Michael Gove last week backed their retention, albeit stressing the need for reform.
The Levelling Up and Regeneration Bill in its current form would bring street votes into local areas, strengthen neighbourhood planning, remove the duty to cooperate and bring in a new infrastructure levy to partially replace Section 106 affordable housing contributions and the community infrastructure levy.
The comments from Frazer follow reports in the Financial Times yesterday that the chancellor Jeremy Hunt is set to scale back or scrap Liz Truss' investment zones, which are aimed at boosting development through reduced regulation and simplified planning.
A spokesperson for the Department for Levelling Up, Housing and Communities said: "All spending decisions will be considered in the round at the Autumn Statement."
The Treasury has been approached for comment.