Exclusive figures show work restarted on more than one in ten sites last week after lockdown closures
Construction work has already restarted on nearly 350 individual housebuilding sites previously closed by the coronavirus lockdown, according to exclusive data provided to Housing Today by construction data firm Barbour ABI.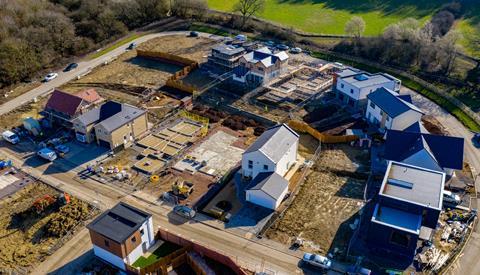 The figures show that 344 schemes restarted last week, with the projects back on site due to produce more than 50,000 homes.
Barbour ABI said it expected the figure to increase further over the next few weeks, following the announcement by a series of major housebuilders over the last 10 days that they are commencing a phased re-opening of construction sites.
The decision to re-open comes after nearly three-quarters of housebuilding sites shut their doors in March in the wake of the coronavirus lockdown brought in by the government. Housing secretary Robert Jenrick has urged housebuilders to re-open sites, despite lockdown rules remaining in force which mean it is very difficult to buy and sell houses.
The restart figures come from a database of all construction jobs in the UK with a value of more than £100,000 held by Barbour ABI. The 344 jobs to have restarted have an estimated construction value of around £7.8bn, and represent 11% of the UK housebuilding industry's current roster of more than 3,000 schemes in the construction phase.
The figures are unlikely to include the restarts announced by the major housebuilders over the last 10 days. Only one of the volume housebuilders to announce a return to site, Vistry, has said it expected to open schemes last week, with others such as Persimmon, Taylor Wimpey, Bellway and Redrow not due to start until this week, and Barratt not due to being re-opening sites for another seven days.
Last month Housing Today revealed earlier Barbour ABI data showing that 2,231 schemes were on hold, just under three-quarters of all UK housing schemes. The firm said that 412 construction schemes in total had restarted in the last week, with the vast majority being residential projects.
Barbour ABI chief economist Tom Hall said: "Over the course of the week many of the major housebuilders have announced a reopening of sites, we expect this to continue to increase over the coming weeks. The volume of restarted projects will continue to increase over the coming weeks as housebuilders that have confirmed they will return to site carry out their plans."