Exclusive figures show that coronavirus has halted work on sites due to deliver nearly 300,000 homes
Nearly three quarters of "on site" residential projects are currently on hold due to the coronavirus pandemic, with schemes due to provide nearly 300,000 homes paused, according to new figures.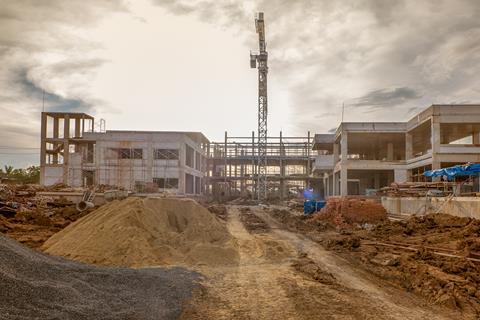 An analysis by construction data firm Barbour ABI, carried out for Housing Today, details for the first time exactly how hard the sector's workload has been hit by the coronavirus pandemic, despite the government maintaining that sites should remain open where possible.
The analysis finds that out of 3,120 residential schemes recorded as under construction, work has now halted on 2,231 of them, equivalent to 72%. Prior to lockdown, schemes due to provide over 420,000 homes were under construction, but since then schemes accounting for 289,000 homes – 69% of the total - have been paused.
While all publicly listed housebuilders have announced that they have stopped work on most or all sites, it has until now not been clear to what extent this has been mirrored by privately-owned and SME builders. The assessment that schemes due to produce 289,000 homes are on hold is a much higher figure than the only previous assessment of 193,000 homes, by estate agent Savills.
The Barbour ABI data also shows that the residential sector is much more likely than the wider construction sector to have put construction sites on hold. Residential schemes make up more than half of the value of all schemes put on hold, despite accounting for less than a third of construction output.
The Barbour ABI finding that 72% of schemes are temporarily shut down makes it possible to start to assess the impact of the shut-down on housing supply. Assuming a lockdown of three months and an immediate return to full production thereafter, would see 2020 housing supply cut by 18% on what would otherwise have been produced.
Compared against last year's net additions of 241,000, this implies a reduction in industry output of 43,000 homes. Any longer lockdown would have a bigger impact, while it is also unlikely that the industry will be able to return immediately to full production when social distancing restrictions are lifted.
This week the Office of Budget Responsibility issued forecasts suggesting the economy as a whole could contract by 35% in the second quarter of the year, with a big increase in unemployment and job insecurity thought likely to feed in to a lower demand to buy homes after the crisis than before. Last week Bartlett Real Estate Institute chair Yolande Barnes estimated that house sales will be at least 30% down in 2020 on 2019.
Tom Hall, chief economist at Barbour ABI, said that the pace and extent of site closures had never been seen before, even during the height of the global financial crisis. He said: "The residential sector has been more impacted than anywhere else.
"It's clear now that this is going to have a big impact on the number of homes built in 2020, and with it the government's aims to build more to tackle the housing crisis. This is going to have to be put on the back burner for a bit."
He added that with housebuilders very sensitive to market conditions, government intervention might be needed to enable the sector to recover. "There appears to be some discussion about around increasing housing market support again using Help to Buy, and it feels like something like that may be necessary."
Noble Francis, director of economics at the Construction Products Association, said that it was very difficult to forecast the impact on construction without know the extent of the lockdown period, but that "the largest impacts and the slowest recoveries are likely to be in spec development and in areas dependent on household spending such as private housing, commercial and private housing repair, maintenance and improvement.
Barbour ABI holds a database charting progress on all UK construction schemes over £100,000 in value.