Goldman Sachs-backed modular housebuilder says it has continued support of US investment giant
A business that is part of Top Hat, the modular homes start-up backed by Goldman Sachs to the tune of £75m last year, recorded operating losses of more than £21m in the near-six months to 5 April 2019.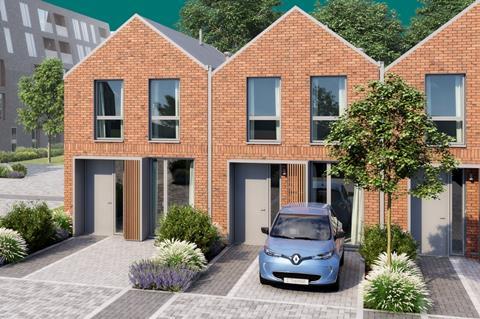 According to accounts filed last week with Companies House, Derby-based developer Top Hat Communities posted negative turnover of £1.1m between 1 November 2018 and 5 April 2019, and operating losses of £21.2m. It also recorded a loss before tax of £21.1m.
TopHat Communities is a subsidiary of TopHat Enterprises Ltd, the Jersey-based business in which the accounts for the modular homes group are consolidated.
Top Hat, which was founded four years ago by US businessman Jordan Rosenhaus, said the recording of negative turnover was a technical accounting requirement "relating to the change in phasing of revenue recognition for a particular contract during a shortened financial year".
A spokesperson said: "There will be no change in the end-to-end sales revenues for this development contract."
The group said the increase in its cost of sales, which more than doubled to £19m in the period, related to site enablement works for one of its developments, "alongside the start-up investment required in the early stages of any manufacturing business".
The switch to a six-month reporting period was related to Goldman Sach's investment, "and to get audited accounts done as soon as possible", according to the spokesperson. The group's year-end is expected to revert back to the normal year-end of October.
In unaudited accounts for the previous year – the 12 months to 31 October 2018 – Top Hat reported turnover of £7.5m and an operating profit of £360,000, while £1.5m in administrative expenses pushed the group into a pre-tax loss of £1.2m.
Despite Top Hat's huge losses, the latest accounts made clear that Goldman Sachs will support the group. In a note to the accounts, the firm said its backers had "irrevocably and unconditionally, jointly and severally, guaranteed to meet the obligations of TopHat Enterprises Limited…when they fall due."
A "going concern" statement, signed by the directors of the housebuilder, said Top Hat's financing arrangements and capital structure provided "both the necessary facilities to enable the group to conduct its business for at least the next 12 months, and therefore the necessary financial support to the company".
Goldman Sachs' investment in Top Hat was described at the time as a vote of confidence in the sector, with one industry observer suggesting the move showed "the high hope that has been long invested in modern methods of construction was now being matched by cash".
The US bank quickly followed up its Top Hat investment by making a £50m senior unsecured loan to London-based developer Places for People.
Top Hat has been building an unspecified number of two and three-bedroom terraced houses and three to five-bedroom town houses for a development in Chatham, Kent, called Kitchener's Barracks. Last year chief executive Jordan Rosenhaus told Housing Today that the money from Goldman Sachs would be used to expand its existing timber frame production facility, develop its technology platform and even invest in new facilities.