Firm has also signed up to UN climate pledge, as housebuilder Hill appoints new head of sustainability
Modular housing developer Etopia is claiming to be the first housebuilder to have been officially recognised as running a carbon neutral business.
The firm has achieved the Carbon Neutral International Standard, policed by One Carbon World which measures and audits emissions by firms, and advises them how to improve operations and offset any remaining emissions via carbon credits.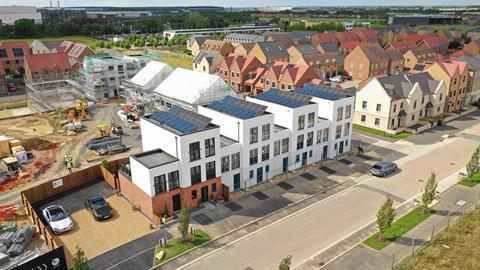 The move will see Etopia, which already produces "carbon negative" homes (pictured, left), support reforestation projects across the world to offset its operational emissions.
Etopia has also joined the UN's Climate Neutral Now Initiative, which requires members to calculate and disclose the current carbon footprint of the company, including international air travel, and show a clear pathway to reducing it year on year.
Etopia claims to have capacity to manufacture more than 2,000 homes a year from its Cheshire-based factory.
Joseph Daniels, founder and chief executive of Etopia Group, said: "The climate crisis is upon us and unless we act now, the damage done will be unrectifiable. The Carbon Neutral International Standard recognises our commitment to ramping up our carbon-cutting efforts and we are proud to be working with One Carbon World to ensure that new trees are being planted across the world."
Andrew Bowen, chief executive of One Carbon World, said Etopia was the first housebuilder to be awarded both the Carbon Neutral International Standard and participate in the UN Climate Neutral Now Initiative, which demonstrated a sustainability commitment "that few companies in any industries can compete with".
He said: "Etopia Group is not only pioneering eco-products but is operating as an economical and environmental company in its own right."
The news comes after the government last week confirmed that all new homes will have to be "net zero-ready" by 2025 – meaning that they are capable of achieving net zero emissions as the electricity grid is slowly decarbonised.
It also came as housebuilder Hill group appointed a new head of sustainability at the firm. The firm said Brendan Ritchie, who has spent the last 22 years at contractor Willmott Dixon, will have a remit to set clear environmental targets and publicly report on performance.
He will also be charge with increasing the uptake of modern methods of construction (MMC) by the firm.
Andy Hill, chief executive at Hill Group, said: "We have bold ambitions to further reduce our environmental impact and maximise the social benefits of our activities. Brendan's wealth of experience in creating sustainable developments is exactly what we need to help drive this transition and ensure that we continue to deliver further positive social and environmental outcomes across the business."