Housing association and developer plan to build 1,000 affordable homes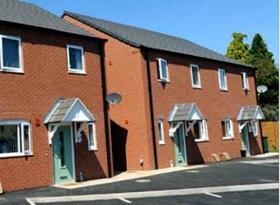 Countryside Properties and Midland Heart housing association have teamed up to build more than 1,000 homes across the Midlands.
Backed by Homes England the venture aims to deliver the 1,000 units over the next three years. A third of the homes were already "at an advanced stage", the venture partners said.
Caroline Cormack, head of home ownership and supply in the Midlands for Homes England said the government agency was "committed to working with ambitious partners to accelerate the delivery of new homes where they're needed most, so it's great to see this partnership working to provide 1,000 affordable homes in the Midlands".
Midland Heart owns and manages 33,000 homes across the region and aims to build 3,000 more by 2024.
Last year it built 304 homes, including a scheme (pictured) with developers Central Site and Coventry City Council for four three-bedroom properties on Modular Mews, Coventry in a weekend, the first time modular homes were produced for the association.