South-west London local authority agrees to forego sales income to allow £1.3bn scheme to proceed
Merton council has agreed a package of measures to ensure a £1.3bn regeneration scheme can go ahead after project developer Clarion warned a deficit risked making the project unviable.
The council has now agreed to forego the 5% of sales income it was due to receive under the terms of the original deal with the housing association to regenerate three estates in the south-west London borough. Clarion is building 1,400 new homes and rebuilding a further 1,200 under the 15-year regeneration of Merton's Eastfields, High Path and Ravensbury estates.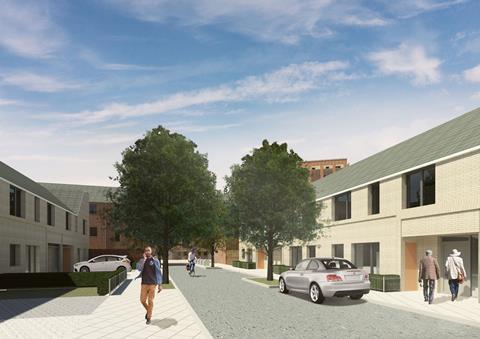 The first phases of the High Path and Ravensbury estates have already been completed but in April 2020 Clarion warned measures were needed to reduce a deficit in the programme which was a "serious risk to deliverability"
On Monday night Merton councillors rubber-stamped a package to ensure the scheme can be delivered.
The council has agreed to suspend its eligibility to 5% of receipts from homes sold in the project, for as long as the programme remains in deficit.
However, the council also agreed measures with Clarion to strengthen the local authority's oversight of the project. The stock transfer agreement between the two parties will be amended to require Clarion to deliver upgrades to stock in line with the Decent Homes Standard even if regeneration delivery milestones are not met.
This is to "ensure these works are guaranteed to be delivered within a specified timeframe irrespective of the status of the Merton Estate Regeneration Programme (MERP)."
The agreement has also been amended to include open book business plan progress updates and greater monitoring of risks to deliverability.
Neither the council nor Clarion have made the size of the deficit or the expected value of the sales receipts public.
The council report this week said: "Significant risks to financial viability and deliverability still remain, notwithstanding Clarion's commitment to deliver and proceed with MERP on the basis of the viability deficit identified in the confidential section of this report
"It is important for Merton council and Clarion to work openly, proactively and collaboratively within an agreed governance framework to ensure these risks can be pre-empted, identified and managed effectively across the remaining duration of the programme."
Clare Miller, group chief executive of Clarion, said: "I am proud that Clarion is investing £1.3 billion into this project and that we are committed to creating a sustainable and vibrant community for residents, with good quality and affordable homes at its heart."
See also: Clarion names winners on 1.2bn framework