New housing minister applauds Liverpool factory that will be able to build up to 500 homes annually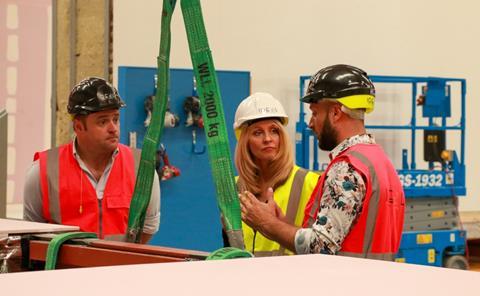 Housing minister Esther McVey has thrown her weight behind modern methods of construction (MMC) after visiting a company turning out modular homes in Liverpool.
McVey, who was appointed by prime minister Boris Johnson last month and replaced Kit Malthouse, last week met with the founders of Ideal Modular Homes (IMH) in the firm's 150,000ft² factory.
IMH chief executive Luke Barnes said the Speke-based facility, which opened two months ago and employs 160 people, will be capable of delivering up to 500 new homes a year using cross-laminated timber hybrid and glue-lam timber systems.
A two-storey home can be completed by the firm in four working days, the company, which was founded in 2017, said in a statement.
Former pensions minister McVey, who at one time worked in her father's construction company in Liverpool, said she was "proud to visit my hometown and see the latest approaches to construction in action, building our homes the country needs whilst at the same time creating vital skilled work.
"The IMH factory is a fantastic example of two Liverpool entrepreneurs, Luke Barnes and Graham Owens, creating jobs and opportunities for local people, and it was great to see their state-of-the-art operation."
The minister's apparent support for modern methods of construction follows the government's recent admission that it had not undertaken a comprehensive assessment of the cost and productivity gains that could be achieved by encouraging the increased use of MMC.
McVey's predecessor Kit Malthouse told MPs last month in a written answer that looking into "particular topics may include consideration of MMC, if relevant to the subject of the research", but that a comprehensive assessment had not been carried out on such impacts.
MPs have warned the government will miss its 300,000-homes-a-year target if it over relies on traditional building methods.
IHM's Barnes said factory-made homes were "faster to produce, better for the environment and once sited are cheaper to run and more energy efficient.
"Although the UK has been slow to adapt to change, if we continue to support modular construction we will begin to see the housing gap close," he added.