Second scheme announced by new build to rent firm Goodstone Living
The £1bn build-to-rent company founded by Australian investment giant Macquarie has acquired its second site.
Goodstone Living, formed last summer and led by Essential Living founders Darryl Flay and Martin Bellinger, has bought a site for 338 homes in Leith, Edinburgh.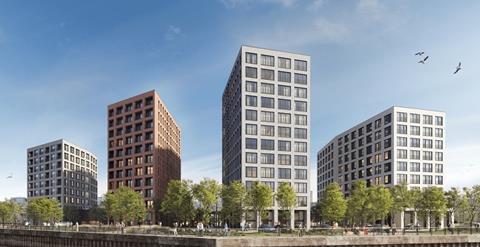 Plans for the site on the Albert Docks include four blocks of between 10 and 14 storeys. A quarter of the homes will be affordable. Goodstone also plans to provide 16,000 sq ft of amenity space, a gym, communal rooftops and co-working spaces.
The site has planning permission and construction work is expected this summer. Goodstone is seeking to raise £1bn in equity to build thousands of rental homes. It wants to become "the UK's leading specialist manager of build-to-rent residential communities."
Martin Bellinger, principal at Goodstone Living, said: "Edinburgh is one of our core markets because of its young, highly educated and growing population, pointing to a deep pool of future talent which is currently undersupplied with quality housing.
"Our strategy will continue to identify opportunities such as this where an undersupply of quality housing matches with key criteria for growth and further regeneration."
The purchase of the 2.5acre site is the second by Goodstone, which last August announced the acquisition of the former Sulzer factory site in Digbeth, Birmingham for a £130m mixed-use development to deliver 480 homes.
Macquarie Asset Management, part of the Macquarie Group, manages more than £394bn in assets globally.