Move follows Barratt and Taylor Wimpey's decision to close sites
L&Q has confirmed that it will shut down its London construction sites for at least three weeks as efforts increase to clamp down on the spread of coronavirus.
The housing association giant, which builds more than 3,000 homes per year in and around London, said it had made the decision despite repeated assertions by ministers yesterday that sites should remain open.
The firm said it had found that social distancing on construction sites was extremely difficult to achieve and that in London the firm's construction workers were heavy users of the public transport network.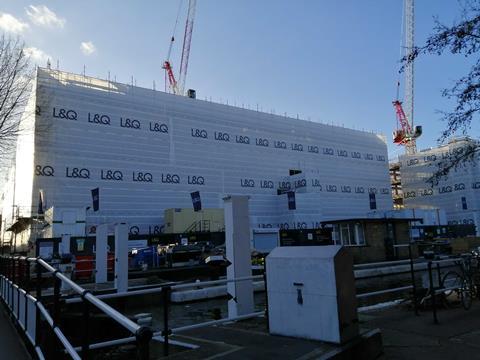 In a statement the organisation said: "L&Q wants to be part of the effort to maintain the safety of our transport network for critical key workers, and we also want to be part of the national campaign to halt the spread of the virus.
"Therefore, in the interest of customer and employee safety, we have today taken the difficult decision to close down all of our construction sites. This decision will be reviewed in three weeks, and in the meantime we'll be making all our sites safe and secure as quickly as possible."
The firm said it understood that the suspension of work would impact on people's jobs and incomes, and that the decision had been taken after very careful consideration.
It followed a similar announcement by the UK's biggest housebuilder by volume Barratt to shut down all its sites, despite continuing government advice that construction should carry on if safety procedures are adhered to.
Barratt said it will shut all 400 sites, following the lead of Taylor Wimpey, which announced it was closing all of its sites and sales offices today.
The moves came after the announcement by Boris Johnson last night of draconian social distancing measures designed to combat the spread of the coronavirus.
London mayor Sadiq Khan, who has stopped work on all Transport for London developments, has accused Johnson of ignoring his pleas, made in the daily Cobra meetings to discuss the ongoing crisis, that building sites be shut down.
A spokesperson for Barratt Developments said: "The health and safety of customers and employees is our number one priority and yesterday we took the decision to temporarily close our 400 offices and sites across the country.
"We are in the process of doing this safely and securely as quickly as possible."