Barratt announces it will close all 400 sites as Taylor Wimpey chief sets out reasons for also shutting down
The UK's biggest housebuilder by volume has announced it will shut down all its sites, despite continuing government advice that construction should carry on.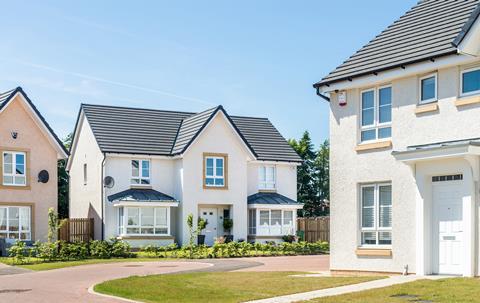 Barratt said at lunchtime that it will shut all 400 sites, following the lead of Taylor Wimpey, which announced it was shutting all of its sites and sales offices today.
The moves follow the announcement by prime minister Boris Johnson last night of draconian social distancing measures designed to combat the spread of the coronavirus.
A spokesperson for Barratt Developments said: "The health and safety of customers and employees is our number one priority and yesterday we took the decision to temporarily close our 400 offices and sites across the country.
"We are in the process of doing this safely and securely as quickly as possible."
The announcement came as Taylor Wimpey chief executive Peter Redfern set out his reasons for shutting down the firm's housing sites, despite the government advice that construction should continue.
Speaking to BBC Radio 4's World at One programme, Redfern said he had taken a moral decision in spite of the government decision.
We all have to operate from our own moral compass. No government advice can keep up with a situation as fast-moving as this

Peter Redfern, Taylor Wimpey
He said: "I think, if we set the government advice to one side, we all have to operate from our own moral compass. No government advice can keep up with a situation as fast-moving as this.
"We listened to the spirit of government advice, listened to what our people saying to us, and we think the right way is to work for the safe closure of sites."
Redfern said Taylor Wimpey would attempt to support its direct subcontractors, but would not be able to ensure the welfare of all the self-employed contractors working further down the supply chain.
He said it was very hard to ensure adherence to government advice on social distancing within the context of a working housebuilding site.
"I think it is very hard to guarantee that the public health advice is guaranteed on a housebuilding site. With our housing sites we've restricted the amount of contact that people can have. But it's very hard for us to ensure that those rules are consistently followed."
Redfern's comments follow the intervention of London mayor Sadiq Khan, who said he argued at the government's daily Cobra meeting that construction sites should close, but was overruled by Boris Johnson and other government ministers.
See below for a full list of contractors and housebuilders that have committed to close sites.
>> This table will be updated as more firms announce their plans.
Last updated: 1.10pm, 24/03