Housing association giant pushes development to above pre-pandemic level
L&Q completed 1,997 homes in the first six months of the financial year, exceeding its pre-pandemic development, its half-year trading update has revealed.
The housing association giant appears to be on course to hit its 3,000 homes-a-year development target for this year.
The association, which manages more than 119,000 homes, revealed the figure in an update covering the six months to 30 September. The 1,997-home figure is a 185% increase on the 700 homes completed in the same period last year during the pandemic lockdown.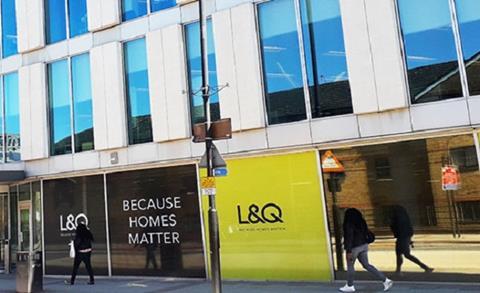 It is also an increase of a third on the 1,505 completions in the first six months of 2019/20.
Of the 1,997 homes completed this year so far, 1,227 were for social housing tenures with 770 for market tenures.
L&Q is targeting around 3,000 homes a year as it seeks to build out a 32,000-home pipeline over 10 years. Earlier this year it finally abandoned a more ambitious development target of building 100,000 homes over a decade as it puts more emphasis on investment in existing stock.
See also>>Exclusive:housing association CEO earnings rise below inflation at 0.8%
L&Q started work on 1,190 homes in the year, down from 1,598 the previous year.
The association also increased its approved development pipeline by an addition 257 homes, bringing its total units to 31,739.
Today's trading update also revealed L&Q has increased its surplus by 12% to £141m.
Howeve it revised down its forecast earnings for the financial year.
Its projected earnings before interest, taxes, depreciation and amortization (EBITDA) for the year is now £330m to £350m, instead of £340 to £360 as previously expected.
Waqar Ahmed, finance director at L&Q said the revision to the figure "reflects our decision to accelerate a greater level of expenditure towards our residents' homes as we commit to prioritising investment in safety and the quality of existing homes and services."
L&Q has committed £30m of costs this year for fire remedial and safety works.