Bonnington Walk project is L&G Modular's second major permission in 2020
The modular housing arm of insurance giant L&G has won planning permission for its second major scheme, a 185-home council housing project for Bristol city council.
L&G Modular has been developing the Bonnington Walk scheme in the Lockleaze area of the city after being selected by the council as development partner earlier this year. Homes will achieve an EPC 'A' rating, normally achieved by only around 1% of homes.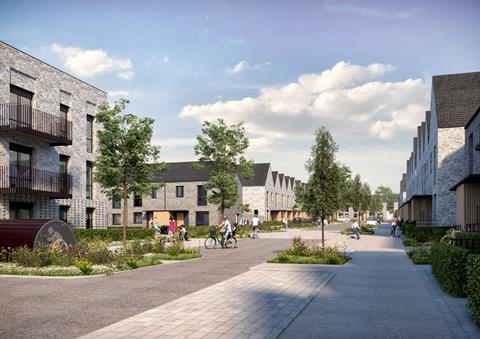 The scheme follows the build out of the firm's first major scheme, for 154 homes at Portholme Road in Selby, North Yorkshire, this year, which L&G Modular chief executive Rosie Toogood said in September was "substantially complete" despite only receiving permission in May.
The firm, which has built a factory near Leeds capable of producing 3,000 homes per year, has now secured permission for 350 homes this year, and employs 300 people.
L&G, which set up the business in 2016, has struggled to get it off the ground, so far racking up more than £100m of losses without producing homes in significant numbers.
Rosie Toogood, chief executive of Legal & General Modular Homes, said using volumetric modular construction would enable L&G to deliver its homes in half the time of traditional methods. "Our journey to revolutionise the UK's construction industry is well underway, and planning consent at Bonnington Walk, Bristol is testament to this," she said.
Councillor Nicola Beech, cabinet member for strategic design and city planning at Bristol City Council, said: "As part of the Bristol Housing Festival and Innovate UK project, this new scheme proves that by doing things a little differently we can deliver much-needed affordable, sustainable new homes in Bristol."