Insurance giant's first full modular scheme will put it on course to build 3,500 a year by 2024, firm says
The modular housing business set up by insurance giant L&G has secured planning permission for a 154-home scheme close to its factory site in Sherburn-in-Elmet, near Leeds.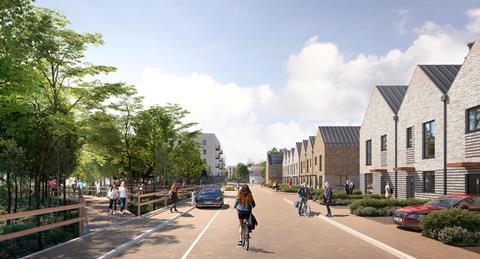 The scheme in Portholme Road, Selby (pictured, right), is the first where L&G Modular has bought the land and secured consent and will represent a significant step forward for the business, which has so far delivered only small pilot projects since being set up in 2016.
L&G said the scheme, which will provide up to 130 jobs during construction, put it on course for its ambition to deliver 3,000 homes per year by 2024. The firm will immediately scale up its business, hiring an extra 50 people to deliver the project.
L&G said the business now has a pipeline of 350 homes in total, and that the modular business had proved resilient to covid-19, re-opening last week with new social distancing measures and without applying for financial assistance to the government.
The Portholme Road scheme will include 76 one- and two-bedroom apartments and 78 two- and three-bedroom houses, with homes to achieve an EPC A-rating, achieved by only around 1% of new homes currently constructed.
The business has struggled since being set up, with accounts last year revealing its has racked up losses of £76m in three years, including a £28m write-off of fixed assets at its 550,000 sq ft factory (pictured, below). Late last year Housing Today revealed it had switched the construction methodology for its apartment product from an original plan to use Cross-Laminated Timber, to using concrete and steel instead.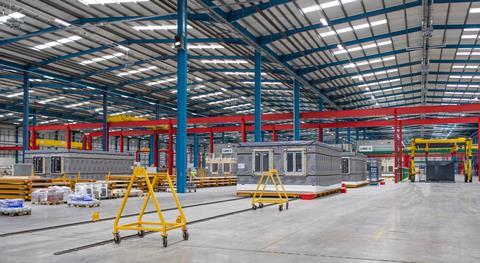 Aside from the Selby scheme, L&G Modular was also selected by Bristol Council in March to deliver 190 homes on the council-owned Bonnington Walk site in Lockleaze.
Rosie Toogood, CEO of Legal & General Modular Homes, said the modular business will now deliver high quality homes at a much faster rate than through traditional construction, and that the business was on course "revolutionise the UK's construction industry."
She said: "In a post Covid-19 crisis environment, the speed of delivery will be more important than ever before. This scheme, along with our proposals at Bonnington Walk in Bristol, will showcase the benefits of modular construction.
"Achieving planning permission for this Selby scheme is a fantastic milestone for the business, and a major achievement for the team, particularly set against the current backdrop."