Insurance giant is prototyping concrete and steel apartments in delayed modular factory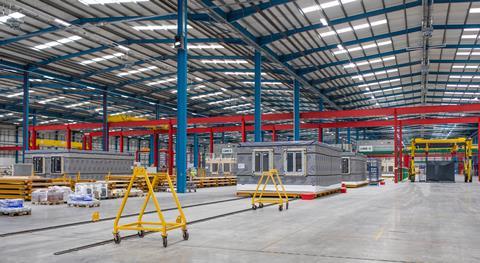 Insurance giant and leading light in modular housing L&G will not use timber as a structural material for its planned modular apartment product, the company has said.
L&G, which has invested £90m in its modular housing business since founding it in 2015, launched with the idea of basing its homes on cross-laminated timber (CLT) technology, but is yet to deliver homes at the scale originally envisaged.
Housing Today understands that the business is now at prototype stage for a modular apartment product based on a hybrid of concrete and steel frame. These materials mean L&G would be able to build tall blocks without risking falling foul of the post-Grenfell ban on combustible products in external walls for tall buildings, which was introduced by the government last year.
However, a spokesperson for L&G Modular Homes made clear the firm is sticking with CLT for its whole-house products. They said: "As we design each product, we evaluate the various material systems available and choose the system that performs best for the customer requirements, design type and regulatory requirements.
"We have chosen CLT for our two- and three-bedroom homes and are very happy with its performance. We have chosen a combination of concrete and steel for apartments as we believe this is the most effective way to meet the requirements for this product."
The spokesperson did not comment on whether the move had been prompted by the government's combustibles ban, which rules out any combustible materials in the external walls of buildings of 18m or higher, equivalent to around six storeys. A number of architects and CLT specialists have voiced fears that the rules could damage the CLT industry, despite structural timber products commonly performing well in fires.
L&G set up a 550,000ft2 factory in 2016 with the capacity to build 3,500 homes a year in Sherburn-in-Elmet, near Leeds, and originally said the first homes would be rolling off the production line in by June that year.
However, three years on the factory has mainly produced house prototypes, though it did deliver eight homes for Silva Homes in Berkshire. L&G is known to be looking to use the factory to produce two-bed and three-bed homes, three-bed and four-bed townhouses, and one-, two- and three-bed apartments.
It is not known how many customers L&G has for either its homes products or the apartment products it is now developing.
According to accounts filed in Companies House, the business has reported losses of £76m in the three financial years since it was set up, including a £28m write-down in 2017 of the value of the firm's "fixed assets".
Last year, L&G said the firm had encountered manufacturing "constraints", which had taken longer to rectify than anticipated, including around the availability of CLT, since L&G could not get CLT boards of the correct tolerances supplied.
In June 2017, L&G changed leadership at the business, bringing in former Rolls-Royce executive Rosie Toogood to be the L&G modular's chief executive.
In October, L&G chief executive Nigel Wilson told The Times that while setting up the factory had taken longer than he originally thought, he was now "very happy" with the business. He said: "The trajectory looks very positive and promising. There's good customer acceptance now. The hard yards are over."
A spokesperson for L&G declined to comment on the use of steel and concrete on apartments, and said that numbers and specific locations for L&G's modular housing remain commercially confidential.