Strategic review deems division to be non-core, as 1,200 jobs are set to go across the group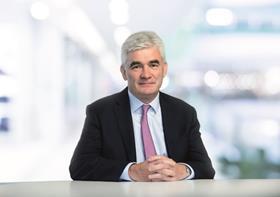 Shares in Kier fell 10% this morning after announcing plans to sell off its housebuilding division as the contracting giant struggles to restore its financial fortunes.
The decision to sell the operation, Kier Living, followed a major review of the business instigated by new chief executive Andrew Davies (pictured), who joined the firm in April this year.
The review, results of which had due to be published next month, concluded the need to shed 1,200 jobs from its 20,000 workforce and sell off a number of what it deemed to be non-core operations, including its housebuilding arm.
The contractor's shares have plummeted in recent weeks as concerns swirled around its financial viability and debt position. It announced today its average month-end debt figure for 2019 would rise to between £420m and £450m.
In a stock exchange statement issued today Kier said the review recognised its portfolio was "too diverse and contains a number of businesses that are incompatible with the group's new strategy and working capital objectives".
Kier Living built 2,042 homes last year and owned a landbank of 4,739 plots. Last year the business generated an operating profit of £26m on turnover of £374m.
Kier said its housing operation operated a number of joint ventures, including with Homes England. The group said it expected any sale of the business would include its interests in these JVs, together with its share of the JVs' net debt.
As well as its housing operation Kier said it would look to sell off its property development arm, as well as its facilities management and environmental services businesses, which it said had "limited operational synergies" with its core businesses.
Davies, who joined Kier as chief executive in April, had been due to head up Carillion before its collapse last year.
In today's statement he said selling off the four divisions would "reinforce the foundations of the business".
Kier shares were trading at 117p this morning, down 10%.