Hyde plans to build around 11,000 dwellings by 2024
Hyde has revealed the contractors on a new £2bn framework, which will be available to public sector firms.
The framework features 41 contractors across eight lots.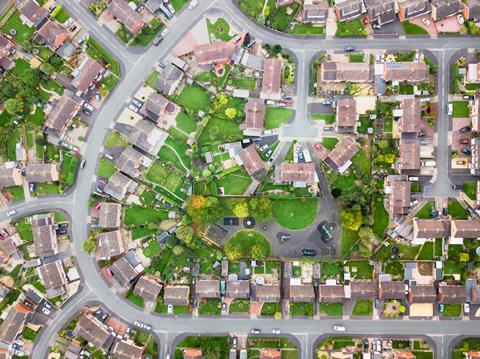 The lots primarily cover new-build residential jobs, though the housing association says there is a "possibility" that some retail and commercial work will be available for contractors.
The biggest winner on the framework was Kier, who claimed places on all eight lots.
When it launched the search for contractors last summer the housing association said it plans to build around 11,000 dwellings of mixed tenures by 2024.
It said the work would be sub-divided into lots worth between £5m and £250m each.
Stephen McMorris, director of development and sales at Hyde, said: "We went through a stringent process of appointing partners who have each demonstrated a commitment to providing quality services, delivering value for money and working collaboratively."
Hyde is one of the largest housing associations in the UK, managing around 50,000 homes across London and the South-east.
Hyde £2bn housing framework
| Contractor | LOT AWARDED |
| --- | --- |
| AMCM Group Ltd | LOT 5 & 8 |
| Bennett Construction Ltd | LOT 6 |
| Bouygues UK | LOT 7 & 8 |
| Bugler Developments Ltd | LOT 5 & 6 |
| Buxton Building Contractors | LOT 1 & 5 |
| Cablesheer Ltd | LOT 1 & 8 |
| Chartway Group Ltd | LOT 1, 2 & 8 |
| Coombs (Canterbury) Ltd | LOT 1 |
| Drew Smith Ltd | LOT 3 & 4 |
| ENGIE Regeneration Ltd | LOT 7 & 8 |
| Extraspace Solutions UK Ltd | LOT 8 |
| Vistry Partnerships Ltd | LOT 7 & 8 |
| Henry Construction Projects Ltd | LOT 4 & 6 |
| Higgins Construction Plc | LOT 2, 4, 5, 6 & 7 |
| Highwood Construction Ltd | LOT 3 & 4 |
| Hill Partnerships Ltd | LOT 2, 6, 7 & 8 |
| Ideal Modular Homes | LOT 8 |
| ISO Spaces | LOT 8 |
| Jenner Contractors Ltd | LOT 1 & 2 |
| John Graham Construction | LOT 6 & 7 |
| Kier Construction London | LOT 1, 2, 3, 4, 6, 7 & 8 |
| Kind & Company | LOT 5 |
| Lovell Partnerships Ltd | LOT 4 |
| McAleer & Rushe Contracts Ltd | LOT 7 |
| McLaren Construction Ltd | LOT 6 & 7 |
| Mears New Homes | LOT 3 & 5 |
| Melius Homes | LOT 8 |
| Midgard | LOT 4 & 7 |
| PMC Construction | LOT 3, 4 & 8 |
| Purelake New Homes Ltd | LOT 5 & 6 |
| Rydon Construction Ltd | LOT 2, 4, 5 & 6 |
| Skillcrown Homes Ltd | LOT 1, 2 & 5 |
| Stack London Ltd | LOT 5 |
| Sunninghill Construction Co Ltd | LOT 3 |
| Thakeham Client Ltd | LOT 1, 2, 3 & 4 |
| Thomas Sinden Ltd | LOT 3 & 5 |
| United Living Ltd | LOT 5 & 6 |
| W Stirland | LOT 3 |
| Wates Construction Ltd | LOT 2, 4, 6 & 7 |
| Westridge Construction Ltd | LOT 1, 2, 3, & 4 |
| WW Martin Ltd | LOT 1, 2 & 3 |