Former housing secretary says scrapping targets would be "colossal failure of leadership"
Former housing secretary Sajid Javid has hit out at Conservatve colleagues supporting backbench legislation designed to scrap housing targets and end the requirement for councils to show a five-year supply of housing land.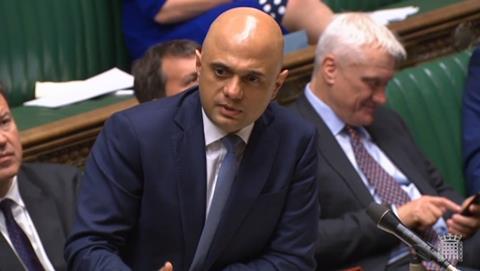 Javid wrote in the Sunday Times that approving the measures, contained in rebel amendments to the Levelling Up and Regeneration Bill, would "put meaningful [housing] policy into reverse" and represent "a colossal failure of political leadership".
Housing secretary Michael Gove is understood to be in talks with the rebel MPs, the number of which has now grown to at least 56, over a compromise on the proposals, after last week dropping a series of votes on the legislation, which had be scheduled for today.
The amendment designed to scrap "mandatory" housing targets is just one of 20 amendments tabled by former environment secretary Theresa Villiers, who leads the group of MPs, with other amendments proposing the introduction of third party rights of appeal into the planning system and an end to the presumption in favour of development.
Javid, who was housing secretary under Theresa May between July 2016 and April 2018, was the first housing secretary to target delivery of 300,000 homes a-year, an ambition which then became a manifesto pledge at the 2019 election. His 2017 housing white paper also presaged the controversial "standard method" for calculating housing need – later dubbed the mutant algorithm by backbench Tories – from which councils are supposed to derive the housing targets in their local plans.
His comments have been supported by other former housing ministers, Brandon Lewis – Javid's predecessor – and Simon Clarke, housing secretary under Liz Truss' short-lived administration. The Home Builders Federation has backed an analysis by consultant Lichfields suggesting that housing completions could drop back by 100,000 annually to as low as 140,000 homes per year if housing targets are dropped, due to a lack of permissions.
Housing Today's A Fair Deal for Housing campaign calls on the government to re-commit to meeting the 300,000 homes-a-year target and is working with the industry to develop solutions to help achieve it.
However, one former housing minister, Esther McVey, is publicly backing Villiers' amendment to scrap housing targets.
Javid told the Times that by abandoning plans to build 300,000 homes per year, the Tory party "risk creating a generation that turns its back on the politicians who failed them. A generation that, without any capital of its own, becomes resentful of capitalism and capitalists."
"Tearing down the existing planning system and failing to build anything credible to replace it would be a colossal failure of political leadership."
He called instead the introduction of Street Votes and a "vision for new towns and garden villages", alongside development corporations and the Oxford Cambridge Arc – which has been dropped.
Javid said he wished he had "gone much further and much faster" as housing secretary to ensure more homes are built.
Simon Clarke said: "Building the homes people need goes to the heart of whose side the Conservatives are on and what our party stands for. […] We either build homes or lose elections. It's as simple as that."
>>See also: Housing Today launches campaign for A Fair Deal for Housing
Brandon Lewis said: "We need to build more homes in the right places and the next generation of voters are simply not going to forgive us if we don't build enough homes to buy."
While not all of Villiers amendments have such widespread support as the amendment to drop housing targets, there is concern about the impact of the whole package of reforms. Planning barrister Zack Simons, of Landmark Chambers, last week said the package of amendment together "would plunge the planning system into chaos the likes of which none of us have seen."
Last week the co-author of the 2019 Conservative Party manifesto, Centre for Policy Studies director Robert Colvile, described Villiers' amendments as "selfish and wicked". However, Villiers said housing targets were having a "toxic" impact on local communities and were "undermining local control over planning decisions and creating pressure for development, which is damaging to the local environment and to the quality of life of our constituents."
A Fair Deal for Housing campaign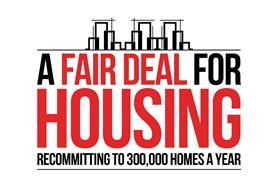 Housing Today believes the government should not back away from its manifesto pledge of building 300,000 new homes a year by the middle of the decade. We badly need more homes and a lack of supply is a major factor in creating problems of affordability for both buyers and renters.
Over the next few months, Housing Today will be exploring potential solutions to help us ramp up housebuilding to 300,000. These are likely to, include different ways of working, funding asks of government and policy ideas that could boost housebuilding.
We want to hear from you: what do you think can make a difference at a policy level?
What can the industry do better?

We believe that, with the right commitments from ministers and the industry, it is possible to build more homes and help the government to meet its objectives to "build beautiful", improve quality and safety, boost home ownership and level up the UK.
Click here to find out more about the campaign
To contribute ideas to our A Fair Deal for Housing Ideas Zone database, click here.