But company much criticised in Grenfell Inquiry warns over materials supply 'constraints'
Profit and revenue at Kingspan both grew in the first half of 2021 despite the pressure caused by materials shortages and price inflation, the firm's latest financial results show.
Pre-tax profit grew by 67% compared to the same period last year, with the firm posting a profit of €297m (£157m) in the first half of this year, down from €178m (£157m) in 2020.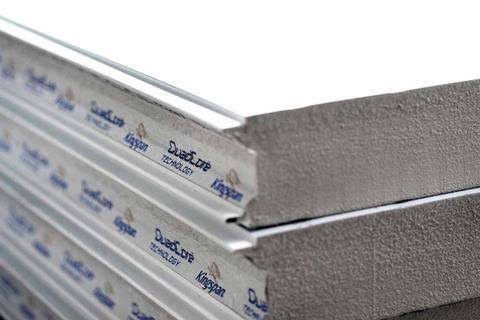 Profit was also up on its results for the first half of 2019 when it posted a pre-tax profit of €209m (£255m).
Revenue increased to €2.9bn (£2.5bn) from €2.07bn (£1.8bn) in the same period last year – an increase of 41%.
The firm, which completed a review of its operations earlier this year in the aftermath of the Grenfell Inquiry, said the first half of 2021 had been an "extraordinary period" and that it had "experienced unprecedented demand, coupled with increasingly acute supply constraints and an inflationary curve never experienced before".
It said this latter point meant that over the course of the year price management activity would have had to recover well in excess of €600m (£515m) in cost increases.
> From the vault: Hearing told Kingspan wanted to 'remain friends' with the government after Grenfell fire
Gene Murtagh, chief executive of Kingspan, said: "Growth in the first half of the year has been remarkably strong with revenue and trading profit at record levels driven by high levels of demand and a global recovery in the construction sector.
"Despite inflation in our input costs, effective price management has helped increase trading margins, with a stand-out performance in our largest division – insulated panels."
The firm said that almost all its markets achieved growth in both order intake and deliveries and in its largest category, insulated panels, the backlog at half year grew further and was significantly ahead of the same point in 2020.
The firm said while this clearly boded well for the remainder of the year, it did anticipate disruption to its supply capability due to some critical raw material constraints.
It added that construction markets in general have been buoyant and that the shift towards more energy-efficient building for both new-builds and renovations was a driver of growth at Kingspan.
Its increasing exposure to high growth markets including online retail, data warehousing and electric vehicle production were also likely to be key to the company's continued growth, it said.