Zoopla predicts reduction in 'extreme' supply-demand imbalance as it reports drop in annual price growth
The sharp growth in the housing market is set to moderate over the coming months, online estate agent Zoopla claimed as it revealed that demand for homes peaked in the week after Easter.
In its monthly market report the firm said annual house price growth had slowed to 4% over the past month, down from a post-pandemic peak of 4.5% in January, despite the fact that demand for homes had soared since the start of the year.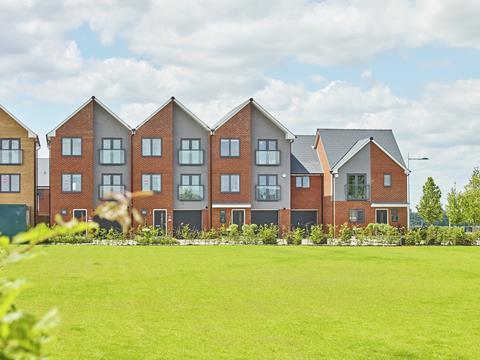 However, the firm said demand to move house appeared to have peaked in the first week of April, with fewer buyers coming to the market since lockdown measures were eased on April 12.
This peak in demand comes notwithstanding the chancellor's decision to extend the existing stamp duty holiday for properties under £500k, and to introduce a mortgage guarantee scheme to support buyers without large deposits.
Zoopla said the level of buyer demand for homes in the Easter week was more than double the average demand in the same week in 2017-19. The value of homes sold in the first 15 weeks of the year was almost double that of 2019 and 2020, at around £150bn.
These findings support a range of data suggesting a surge in housing market activity since the Budget on 3 March.
However, the firm said demand levels have begun to fall back as households in England start to focus on seeing friends and family as lockdown rules are eased. The firm said: "Buyer demand is likely to continue to ease as more parts of the country emerge from lockdown but, given the myriad factors boosting the appeal of moving listed above, buyer appetite will remain above average levels for this time of year through Q2."
Grainne Gilmore, head of research at Zoopla, said: "The imbalance between supply and demand, which is creating a very tight market for family homes, will start to ease in the near term as homeowners become increasingly comfortable opening their homes to viewings, in turn building supply of new stock.
"The scale of buyer demand will also moderate from the peaks seen after Easter as lockdowns end across the country and there is some return to pre-pandemic 'normality'."
The firm added that the annual rate of price growth will continue to ease as the current "extreme imbalances" between supply and demand start to unwind.
However, Gilmore said demand will still remain strong as the "search for space" has further to run, given the need for offices to make decisions shortly about permanent working arrangements post pandemic.
Dean Clifford, co-founder of developer Great Marlborough Estates, said: "These figures show the strength of the UK housing market.
"Homeownership remains an aspiration for many and, while the government-backed 95-per-cent mortgage scheme launched earlier this month is welcomed, policymakers must also focus on boosting housing supply to meet the demand."