Fines for landlords who don't upgrade their properties axed while a fifth of households to be exempt from boiler ban
Housing experts have ripped into Rishi Sunak's U-turn on a raft of key climate pledges that will see a fifth of homes exempt from the ban on gas boilers and weaken energy efficiency rules for landlords.
The prime minister said yesterday that the UK needed a more "pragmatic and realistic" approach to net zero targets which eases the "burden on British people".
Landlords will no longer be fined if they do not upgrade their properties to EPC C or higher by April 2025.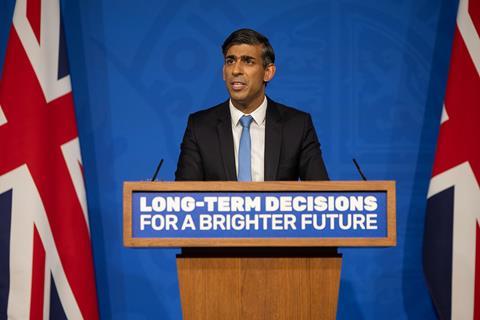 Around five million households who can least afford replacing their old gas boiler with an energy efficiency device such as a heat pump when the rule kicks in after 2035 will also be spared the requirement.
However, Sunak increased the boiler upgrade scheme, which provides grants to replace fossil fuel boilers, from £5,000 to £7,500.
The prime minister also delayed a ban on new petrol or diesel cars by five years to 2035, a move which Labour says it will reverse.
Fiona Howie, chief executive of the Town and Country Planning Association, said Sunak's measures are counter-productive and "potentially disastrous for future generations."
"Backtracking on the phase out of gas boilers and energy efficiency measures for homes will condemn the UK's poorest households to decades of draughty homes and unnecessarily high energy bills," she said.
"Rather than weaken these policies, the government needs to be doing more to support climate mitigation and adaptation.
"In his speech the Prime Minister recognised the role of planning to enable grid connections. But there is much more the government needs to do in relation to the planning system. Only by aligning town planning legislation with the Climate Change Act, and by setting a clear direction in national policy will the government deliver emission reductions at the speed required."
RIBA president Muyiwa Oki argued the announcements showed the government has "no real intention to lead the charge towards net zero", adding that future generations will pay a "heavy price".
"Millions of people in the UK are living in draughty, damp homes that are leaking energy and money," he said.
"Today's announcement reverses the little policy progress the Government has made in upgrading our ageing and inefficient housing stock.
"Without consistent government signal, support and investment, our homes will remain the least efficient in Europe for years and decades to come. It's time for leadership and ambition"
Reacting to the axing of energy rating rules for landlords, Generation Rent chief executive Dan Wilson Craw described the move as "both cruel and out of proportion" to what Sunak wants to achieve.
"Cancelling higher standards for rented homes is a colossal error by the government" he said.
"Leaving the impact on the climate to one side, it makes the cost of living crisis worse and damages renters' health.
"One in four private renters lives in fuel poverty and, without targets for landlords to improve their properties, they face many more years of unaffordable bills.
He also warned the change in tack will have a "chilling effect" on investment and skills training across green industries just as businesses were scaling up these activities.
"The anger and frustration at this latest policy U-turn has reverberated across industry today. Delaying green policies just means they'll have to be implemented much faster, later, pushing up the cost for everyone - householders and businesses alike," he said.
The National Residential Landlords Association welcomes the savings for landlords which will result from the scrapping of the 2025 deadline, but said the government should "develop a full plan that supports the rental market to make the energy efficiency improvements we all want to see."
Sarah Mukerjee, chief executive of the Institute of Environmental Management and Assessment, said the net zero transition needed consistent policy if businesses are to have the confidence to invest in reducing emissions.
"Kicking the can down the road does not help with business planning and makes the UK a less attractive place in which to invest; it also makes it less likely that we'll meet the 2050 target and avoid dangerous climate change," she said.
"We have a real opportunity to invest in a greener economy by equipping our workforce with green skills and jobs to tackle the environmental challenges we face.
"The UK's international leadership position on climate change has been gained by giving business the incentives to invest in clean technologies. A short-term 'pause' will undermine the UK's reputation, and cost more in the long term."
Cara Imbrailo, partner at law firm Speechlys, said: "If the Government is serious about reducing emissions and reaching net zero, improving the energy efficiency of the private rented sector is unavoidable and a question of "when, not if'".