Partnerships developer Countryside picked after 18-month process
Metropolitan Thames Valley Housing (MTVH) has selected partnerships developer Countryside as its preferred bidder to build the remaining 2,482 homes in a major regeneration scheme in south London.
The G15 housing association and Countryside have agreed to form a joint venture to deliver the Clapham Park scheme, with the first completions expected in 2024. Countryside was selected following an 18-month tender process run by Arcadis and Devonshires.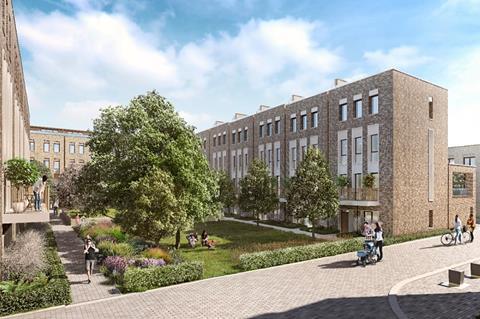 The JV will build at least 2,482 homes across 17 individual sites, of which 53% will be affordable. The development will include a mix of family homes and one and two-bedroom apartments, as well as a a community centre, a market square, two parks, commercial and retail space and a district heating system.
Ownership of the Clapham Park site, which spans 36 hectares and lies between Clapham, Brixton and Streatham Hill, transferred to MTVH from Lambeth Council following a ballot of residents in 2005.
MTVH has previously completed 1,500 new and refurbished homes in the scheme, meaning the wider regeneration scheme will total nearly 4,000 homes.
See also>> How will developing housing associations cope with extra costs? An interview with Geeta Nanda
Geeta Nanda, chief executive of MTVH, said: "This is an important moment as we work towards completing the regeneration of Clapham Park and making a very real difference to the community living there."
Countryside earlier this year announced it was winding down its spec housebuilding arm to focus on place making and regeneration through its partnership business.
Iain McPherson, group chief executive, Countryside, said: "We are thrilled to form this joint venture partnership with MTVH. As a partnerships-based business, our commitment to delivering high-quality, sustainable mixed-tenure communities is unwavering.
See also>> Genius or folly? Why Countryside's decision to get out of housebuilding is causing a stir