Latest figures from NHBC show 8% quarter on quarter drop in completions
Housebuilding volumes fell in the three months to September, in what appears to be the first concrete sign of the impact of labour and materials shortages on housing numbers.
The third quarter data from warranty provider the NHBC shows that UK new home registrations – which commonly occur when builders start work on site – fell by 27% quarter on quarter to 33,779, while completions dropped by 8% to 31,908.
The third quarter drop in registrations was most pronounced in London, where year-on-year starts were down by 78%.
While it is likely that some of the reduction in work is due to the drive to complete homes in advance of both financial year-ends for a number of major housebuilders and the partial end of stamp duty relief at the end of June, completions also fell year-on-year by 5%.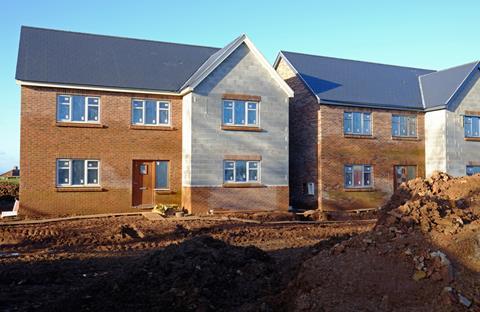 David Campbell, commercial director at the NHBC, said "anecdotal" evidence suggested the drop in completions was due to ongoing labour and material shortages in the wake of the pandemic and Brexit.
"This drop in completions is a possible reflection of the challenges the industry is seeing with materials and labour shortages.
"This is the first quarter we've seen this effect coming in to the statistics, and we need to keep an eye if this carries on in to quarter four."
See also>>GLA halves projected housing starts on its own land
Campbell said it appeared that larger builders were less affected by the problems, given their greater purchasing power with stretched suppliers, and ability to store materials on larger sites. He added that housebuilders were making greater efforts to train new people in to the industry, given the decline in the amount of foreign labour working in the sector in the UK.
The NHBC figures showed a continuation of recent trends towards building more houses – particularly detached houses – rather than flats.
The data, which is based on information collected when NHBC customers take out a warranty on new homes, showed 36% of homes registered were detached houses, up from 28% in q3 2020, and the highest level since 2002.
The number of apartments registered fell by 47% in the quarter on the Q3 2020 figure, to 4,444 – the lowest figure on record. Houses made up 87% of all registrations, compared to just over half in 2007, when the data was first collected.
Campbell said the figures reflected "a continued shift away from apartment living".
There was also a drop in the number of homes registered to be built for rent, with the number 32% down on the figure in Q3 2020. Campbell said this shift likely reflected the decision by housing associations to divert capital spending toward investment in their existing properties.