Savills survey finds institutions and other investors set to put £27bn into nascent sector
The number of homes owned and managed by 'for profit' housing associations is set to grow seven-fold in the next five years according to a survey by consultant Savills.
Savills said the sector, which has grown from virtually nothing in the past decade to controlling an estimated 19,600 homes by 2022, will expand exponentially to hit 140,000 homes under ownership by 2027.
The consultant, in its annual survey of the nascent sector, said the number of for profit registered providers will also grow in the period, from 64 currently, to around 90, with firms investing a combined £27bn in the sector.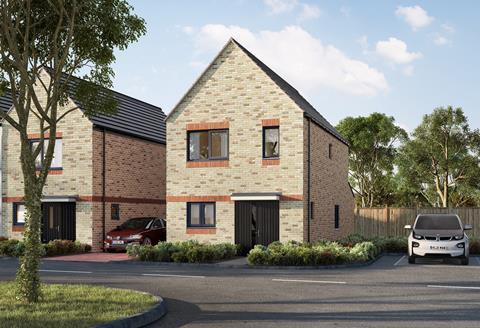 The survey also shows the dominance of institutional players in the sector. Savills survey showed that while financial institutions represent only a fifth of the 64 for profit providers, those providers own 90% of all the homes owned by for profits. Institutional investors and fund managers, including Legal & General, Blackstone, Man Group and M&G having all registered for-profit providers in the last three years, with Blackstone's Sage Housing now owning and operating more than 8,000 homes.
Savills said there was "huge investor appetite for environmentally friendly, regulated assets that provide tangible social benefit", and that this gave existing for profit providers "a deep well of capital to draw on as they grow."
See also>>Briefing: L&G Affordable Homes' ambitious plans for expansion
See also>> 'For-profit' Sage sets 30,000-home target
There are currently around 60 applications for new for profit providers sitting with the regulator, Savills said, adding that early movers will see a significant competitive advantage.
'For profits' are seen as a key source of new housing supply for the sector, often partnering with housebuilders and housing associations to take on properties under section 106 deals from new developments, which can otherwise hold schemes up.
Helen Collins, head of savills affordable housing consultancy, said the 'for profit" sector was in the "early growth phase of new entrants to the affordable housing sector". She said the firms were able to compare the policy and economic landscape of affordable housing with other investment classes. "This fresh perspective creates opportunities to question how things are done and bring innovation – a start-up approach.
"As a result, we have seen more interest from housing associations and local authorities coming to us for help in exploring the options for partnership working. There is also steep learning curve for new entrants around things housing associations have done for years, such as their deep understanding of regulation and risk."
Steve Partridge, director, savills housing consultancy, said: "With inflation running high, affordable housing can give investors inflation-linked returns, while delivering energy-efficient, affordable, and well-regulated homes. Growth in this sector is limited by the availability of stock, not by investor demand of the availability of capital."