A fifth of the modular firm's 406-home development will be assigned to council tenants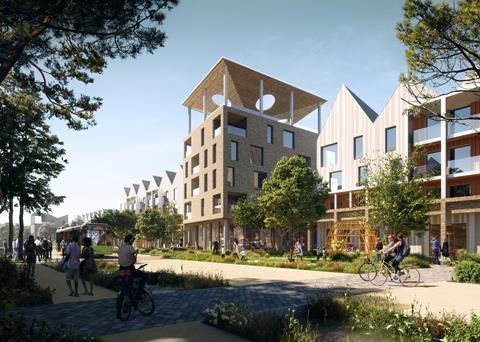 Nearly a hundred of the 400-plus homes on Urban Splash's Northstowe scheme in Cambridgeshire are to be designated council properties.
The modular homes builder will be developing 406 units on the new town scheme (pictured) – jointly designed by Proctor & Matthews and Shedkm – along with Homes England.
The pair has appointed South Cambridgeshire council to deliver 81 homes – a mix of one- or two-bedroom apartments – for affordable rent.
Sixty of the 81 homes would be specially designed for the over-55s.
South Cambridgeshire councillor Hazel Smith said the local authority wanted to work with the modular manufacturer to develop a scheme that promoted "active lifestyles, supporting residents to live safely and independently for as long as possible".
The homes will be built in Urban Splash's factory in Alfreton, Derbyshire and erection work on the site is expected to start in the spring of next year.
The Northstowe scheme will eventually see about 8,500 homes delivered by 2040.
In May this year, Japanese building giant Sekisui house paid £22m for a 35% stake in Urban Splash, having eyed the opportunities for modular housing in the UK.
The Japanese firm, which is listed on the Tokyo stock exchange, has built more than two million homes across the Far East, Australia and the US.
In the wake of the deal it established a team of four executives in London to work with Urban Splash on ramping up capacity at the UK firm's Alfreton plant.