Big names not on the list as full details are revealed
Some of the housing sector's biggest firms have not made it on to a list of 66 developers named by Homes England to its new £20bn procurement framework.
Homes England's "dynamic purchasing system", which replaces the agency's previous delivery partner panel (DPP3), is the mechanism by which firms can get access to development opportunities on Homes England land.
The framework includes developers such as housebuilder Persimmon and Edaroth, an offsite business set up by engineer Atkins, for the first time. Homes England said that 24 firms – more than a third – are small or medium-sized businesses, who can gain access by a simpler application process.
However, big-name developers including Redrow, Bloor, L&G and Urban Splash, plus major developing housing associations such as Clarion, Homes Group and L&Q – all of whom were on the DPP3 – are not yet on the framework. It is not known whether any of these organisations applied this time around.
Under the new dynamic purchasing system, additional players can apply to join the framework at any point, meaning those listed above are not necessarily cut out of access to Homes England projects for the life of the framework. The previous DPP was only renewed once every four years, meaning firms not on the list were unable to apply to build out projects on Homes England land.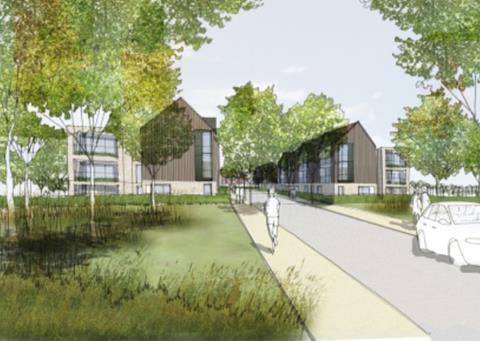 The quango said it planned to put £20bn of development opportunities through the framework, with a 14-acre site at Burgess Hill for around 350 homes likely to be among the first to come forward.
Housing Today revealed Homes England's plans to set up the new "dynamic purchasing system" earlier this year. Homes England's chief land and development officer Stephen Kinsella told the magazine that the system was designed to allow the agency to respond quickly to changes in the market, including encouraging the development of new entrants.
Kinsella said today that the agency had also simplified the process, and that the new system "marks a significant step forward in the way we work with developers to build homes".
Housing minister Christopher Pincher said he welcomed the change of approach, adding it would "support SMEs while providing more opportunities for home ownership to hard-working people across the country".
The full list of partners is available below. To compare against the previous DPP3, see Homes England's list here.
Homes England Dynamic Purchasing System partners:
BDW Trading Limited
Bellway Homes Limited
Bromford Housing Group Limited
Bugler Developments Ltd
Castle Green Homes Limited
Claritas PSP Consortia
Countryside Properties (UK) Limited
Crest Nicholson
Crossfield Living
Deeley Group Limited
Devonshire Homes Limited
Durkan Limited
EDAROTH Limited
EG Carter & Co Ltd
ENGIE Regeneration Limited
Eric Wright Group Limited
Esh Construction Ltd
Feltham Construction Ltd
Highwood Group Limited
Hill Holdings Ltd
J. Harper & Sons (Leominster) Limited
Jessup
John Graham Construction Ltd trading as Graham
Keepmoat Homes Ltd
Kingswood Homes (UK) Limited
Lindum Group
Lioncourt Homes (Development No1)
London Square Partners
Longhurst Group Limited
Lovell Partnerships
McDermott Homes
McLaren Construction Ltd
Mercer Building Solutions Limited
Midas Construction Limited
Morris Homes Limited
Mulalley & Company Limited
Mulberry Homes
Muse Developments Ltd
Northstone Development Limited
Optivo
Persimmon Homes
Places for People Group Limited
Platform Housing Group Limited
Robert Woodhead Limited
Rowlinson Constructions Limited
RP Tyson Construction Ltd
Sanctuary Housing Association
Seddon Construction Ltd
Sigma Homes Ltd
St Modwen Developments Limited
Stewart Milne Homes North West England (Developments) Limited
Stonewood Partnerships Ltd
Story Homes Limited
Strata Homes Limited
Taylor French Developments Ltd.
Taylor Wimpey UK Limited
Termrim Construction Limited
Thirteen
Tilia Homes Limited
Tolent Construction Limited
United Living (South) Limited
Vistry Partnerships Limited
Wates Construction Limited
Westridge Construction Ltd
Wiggett Construction Ltd
Willmott Dixon Construction Limited