Housing association giant increases starts and completions
The Guinness Partnership has posted a large increase in its surplus as a result of a major exchange of housing stock with another registered provider.
The association, which manages more than 64,000 homes, reported a surplus of £69.9 million for the year to 31 March 2021, up from £38.2m the previous year.
The figure included a £94m accounting surplus generated from a deal with Paradigm Housing Group, which saw Guinness take on 1,157 new properties and transfer another 1,386 to Paradigm.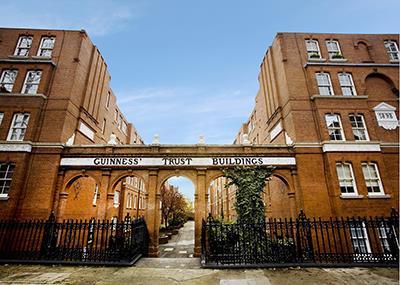 Without this, Guinness would have been in deficit, as it was hit by a one-off £35.4m charge for an early redemption of a bond and a £20m increase in operating costs relating to social housing lettings.
Guinness' margin on social housings lettings fell from 29.8% to 24.8% due to "a number of building safety and stock investment decisions combined with the increased cost of delivering maintenance services in-house during Covid-19 lockdowns", Guinness said.
The group started 1,349 homes in 2020/21 and completed 506, higher than the 1,026 starts and 199 completions recoreded the previous year.
The starts and completions figures were however lower than the group's pre-pandemic target of 2,000 and 700 respectively. "This was partly driven by delays during the first lockdown, when it was not clear whether contractors were able to continue work on site," the accounts said.
>> See also: Housing association accounts 2020/21 coverage all in one place
As of 31 March, the group had 2,593 homes under construction and a pipeline of 1,740 homes, which has fallen from 3,012 the previous year.
Guinness was revealed earlier this month as one of the biggest players in the latest Homes England strategic partnerships programme. Guinness, in a joint bid with Stonewater, has been allocated £250m to build 4,180 homes.
Last December Ilke Homes struck a deal with Guinness to build a 57-home modular scheme in Drybook, Gloucestershire.
What are housing association surpluses?
Housing association surpluses are calculated by deducting expenses from income. They differ from profit as they are not paid to shareholders but instead re-invested in building homes and funding services.
Associations are required to post surpluses to maintain lender and investor confidence, assure the regulator of an organisation's viability and to ensure the business is well positioned to cope with unforeseen events.
Surpluses can be used as future working capital to enable organisations to fund development while reducing their reliance on grant, debt or other types of funding.