Building safety minister tells Housing Today Building Safety Act powers are 'not for show'
Lord Stephen Greenhalgh has said the government will definitely use new powers in the Building Safety Act to sanction housebuilders if they do not contribute towards fire safety remediation costs.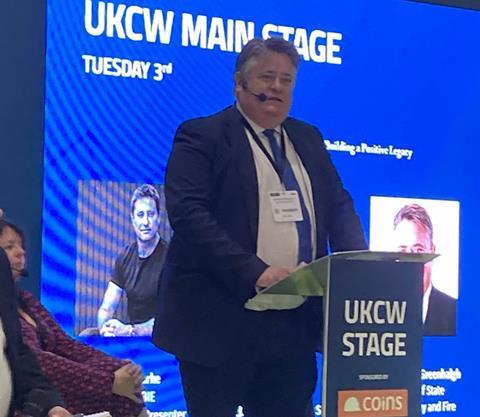 The building safety minister told Housing Today on Tuesday that with Galliard Homes signing the pledge last week , the "last of the really major housebuilders" have now signed up to Michael Gove's fire safety developer deal.
Under this deal, developers agree to remediate their own blocks above 11 metres in height without using the Building Safety Fund. Telford Homes also revealed it had signed the pledge yesterday, bringing the total to publicly announce they have signed up to 39.
However, the government reportedly asked 53 housebuilders to sign up to the pledge in total, meaning 14 may have been asked to but so far not complied.
Greenhalgh said: "The reality is there are sanctions if you don't [sign up to the deal] so we want these people to rethink."
Amendments to the Building Safety Act, which became law last week, give ministers the power to prevent companies building out schemes, even if they have planning permission, for "any purpose connected with securing the safety of people". It also allows them to prevent them from applying for or receiving building control approval for the same purpose.
See also>>UPDATED: full list of developers to have signed the cladding pledge
Asked if the government would be prepared to use these powers, which have been branded 'draconian' and 'extreme' by legal experts, Lord Greenhalgh said: "That's why we have put those powers in law. It's not for show, it is necessary, otherwise it falls on the taxpayers and they are innocent, it can't be right.
"At the end of the day, these are issues that require the industry to step up to the plate, they have made very good profits over the past five years since Grenfell."
Greenhalgh stressed however that the largest housebuilders were just the first group targeted and the government would be seeking contributions from others across the construction industry.
He said: "We've started with the largest and we are working our way through the supply chain appropriately."
See also>>The Building Safety Bill becomes law – here is what you need to know
Peter Caplehorn, chief executive of the Construction Products Association (CPA) said products firms were not going to back down following Gove promising to "do whatever it takes" to make sure manufacturers of building materials are held to account for the cladding crisis.
Greenhalgh also pointed out the Building Safety Act gives ministers the power to make cost contribution orders to force manufacturers of products who have been prosecuted under products regulations to pay toward remediation costs.
Meanwhile, Stewart Baseley, executive chair of the the Homes Builders Federation, has written a letter to Gove saying that the proposed £3bn levy on housebuilders to fund remediation of 'orphaned' building is neither "fair or justified" and comes on top of an estimated £2.5bn to £3bn to be paid by housebuilders through the residential property developer tax and £2bn through the cladding costs pledge.
He said: "We are concerned that an overall bill for UK housebuilders of more than £8bn that is suggested by the announcement will harm housing supply and create a distorted market leaving them disadvantaged in comparison with overseas developers andother housing providers".