Housebuilders say they will continue to negotiate with housing secretary despite threat to stop them trading
A legal expert has branded new powers proposed by Michael Gove designed to prevent housebuilders from operating if they don't pay into a £4bn fire safety fund as "draconian" and "extreme".
Housebuilders have nevertheless said they will continue to negotiate "constructively" with the housing secretary over his plans to raise £4bn from the industry to pay for the remediation of mid-rise buildings affected by the fire safety crisis.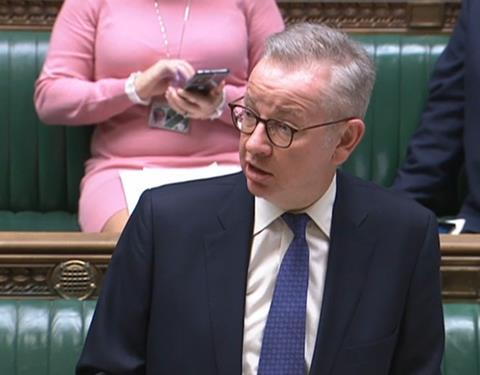 The comments come after Gove (pictured, left) this week raised the stakes in his confrontation with the housebuilders over fire safety costs by tabling amendments to the Fire Safety Bill designed to stop housebuilders from trading and expanding proposed levies.
While the Department for Levelling Up, Housing and Communities (DLUHC) said in a statement announcing the amendments that it would only stop housebuilders from gaining planning permission or building control approval if they didn't pay into the repair fund, the amendments themselves are far broader, and do not set clear limits on the use of the powers by government.
The series of far-reaching amendments, tabled by the housing department late on Monday, came after housebuilders secured legal advice reportedly making clear that Gove's previous threats to stop them from trading if they didn't pay into the £4bn fund had no basis in law.
The amendments, if voted through, will give the government power to:
Prevent companies or individuals from building out schemes, including schemes with existing planning permission, "for any purpose" connected with "securing the safety of people in or about buildings" or "improving the standard of buildings"
Prevent companies or individuals from applying for or receiving building control approval, again "for any purpose" connected with "securing the safety of people in or about buildings" or "improving the standard of buildings"
Expand the mooted building safety levy – currently targeted only at buildings of more than 18m in height – to all buildings containing "one or more dwellings"
Trace the ultimate developer of properties developed via shell companies, in order that leaseholders can secure contributions for fire safety repair costs
Make developers primarily liable for fire safety repair costs, with building freeholders liable where developers cannot be traced, and with recourse only then to leaseholders, whose costs will be capped at £15k in London and £10k elsewhere
The move follows reports the chief executive of housebuilder Persimmon wrote to DLUHC calling the threat to stop housebuilders trading, made in a letter to housebuilders the week before, "unlawful".
It also comes after Redrow chief executive Matthew Pratt Last week branded Gove's threats "unrealistic" and "inequitable".
Chris Warenius, legal director at law firm Harold Benjamin, said the amendments, if enacted into law, would likely give Gove's threats effective legal force, though he said it was possible housebuilders could mount a challenge to any new law under the Human Rights Act. "This is all quite widely drafted," he said. "It's pretty draconian, it's at the extreme end of legislation you could expect to come forward. The government clearly believes it has tried to take a more softly softly approach but it hasn't worked."
>> Can Gove really go after developers for £4bn of cladding costs?
>> Does Gove's £4bn cladding levy mark the start of an anti-development era?
The housebuilders' trade body, the HBF has previously been critical of Gove over the threats and open about the fact it is taking legal advice on the issues.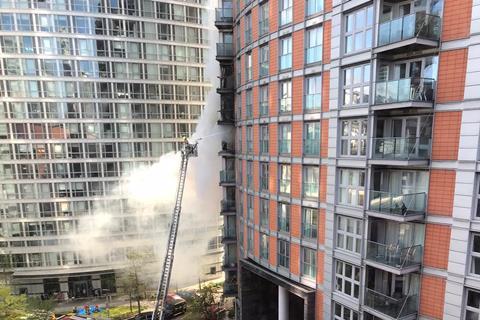 However, a spokesperson for the Home Builders' Federation, which has been leading negotiations with government over the issue, said in response to the latest move that it was still working "constructively" with the department to find a "fair and equitable solution" to funding fire safety repairs, but that this should include a "broad range of industry players" – beyond the UK housebuilders – and that "the significant financial commitments already made by the sector to help its leaseholders" should be recognised as part of it.
The negotiations are understood to be likely to hinge in part upon what the government's definition of a "responsible developer" will be, as the government has indicated such firms will not be subject to the sanctions under the draft laws. It is not certain whether the government will apply these sanctions just to those firms that have not repaired their own buildings, or also to firms that have not contributed to the wider £4bn fund – as Gove has threatened.
Announcing the measures, Gove on Monday said: "It is time to bring this scandal to an end, protect leaseholders and see the industry work together to deliver a solution.
"These measures will stop building owners passing all costs on to leaseholders and make sure any repairs are proportionate and necessary for their safety. All industry must play a part, instead of continuing to profit while hardworking families struggle."