Ministers plan to amend building law to stop developers from building unless they pay into remediation fund
The government has unveiled plans to give legal force to its threats to stop developers from building unless they pay up for cladding remediation costs.
It follows a reported letter from the chief executive of housebuilder Persimmon to the Department For Levelling Up, Housing and Communities (DLUHC) calling the sanctions "unlawful".
The firm is understood to have sought legal advice from a QC over housing secretary Michael Gove's warning to builders over an estimated £4bn bill for repairs to mid-rise blocks of between 11m and 18m in height.
But Gove has doubled down on the threats today, saying a statement from DLUHC that those not willing to play their part in ending the building safety crisis "must face consequences".
The secretary of state announced plans to amend the Building Safety Bill to allow the government to block planning permission and building control sign-off for schemes for "those in the industry not doing the right thing".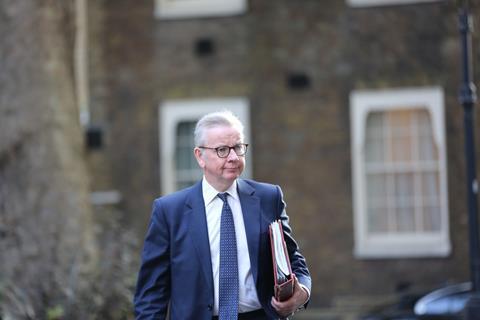 The new law would effectively prevent developers who refuse to pay into a fire safety repair fund from building and selling new homes.
Last week Redrow chief executive Matthew Pratt branded Gove's threats "unrealistic" and "inequitable".
Pratt said: "I don't think anyone can sign a deal that says 'you will give me anything I want'. Which basically [is saying that at] the end of the year 'we'll tell you how much it [the cost] is and you'll sign up to say you'll give us it.' Nobody can sign up to that, it's unrealistic."
The government will also be able to apply its new building safety levy - a tax on developers of high rise residential buildings - to more developments, with scope for higher rates for those who "do not participate in finding a workable solution".
Gove said: "It is time to bring this scandal to an end, protect leaseholders and see the industry work together to deliver a solution.
"These measures will stop building owners passing all costs on to leaseholders and make sure any repairs are proportionate and necessary for their safety.
"All industry must play a part, instead of continuing to profit whilst hardworking families struggle.
"We cannot allow those who do not take building safety seriously to build homes in the future, and for those not willing to play their part they must face consequences.
"We will take action to keep homes safe and to protect existing leaseholders from paying the price for bad development."
DLUHC said the new clauses would enshrine in law a commitment made by Gove in the House of Commons last month that no leaseholder living in their own home, or sub-letting in a building over 11m, "ever pays a penny for the removal of dangerous cladding".
And the department said the provisions announced today will go further than last month's pledges by protecting leaseholders from non-cladding costs.
However, it admitted that leaseholders could still have to pay up to £15,000 in London and £10,000 elsewhere in the UK.
The capped bill would be footed by leaseholders in the "small number of cases" where owners of buildings above 11m do not have the resources to pay, with any costs already paid out by leaseholders over the past five years counting towards the cap.
The department said the plan would encourage a "more proportionate approach" to fixing buildings compared to current practice which allows building owners to pass on all costs to leaseholders.
The law would also allow cost contribution orders to be palace on product manufacturers who are successfully prosecuted under construction products regulations.
DLUHC said product firms would be required to "pay their fair share" on buildings requiring remediation, adding: "It is wrong that, until now, a manufacturer could be found guilty of misconduct but could not be charged to fix the problems they caused in selling defective products."
Gove's threats followed his decision last month to protect leaseholders entirely from the costs of fire safety repairs to homes now deemed to be at risk.
But housebuilders dispute the £4bn price tag, and say that other developers, contractors, designers, subcontractors, insurers and government should all share the cost.