Letter to James Brokenshire from mayor Sadiq Khan, the G15 and the capital's council spells out concerns of 'bad deal'/'no deal' scenarios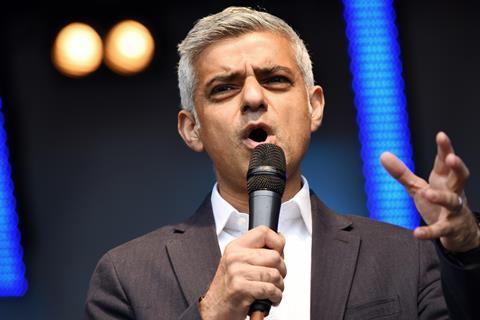 Urgent action will be needed in London to avert a downturn in new affordable housing if Brexit fears continue to see developers put projects on hold, the capital's mayor has warned.
In a joint letter to housing secretary James Brokenshire, London mayor Sadiq Khan (pictured), the capital's councils and the G15 group of London housing associations said it was clear developers were "holding back" on new projects, leading to a loss of affordable housing, "given that around 20% of affordable supply is generated through S106 agreements".
The G15 and the Greater London Authority (GLA) has calculated that if sales of private homes were to slump after the UK leaves the EU next month, the compensation required for the lost cross-subsidy that otherwise would have funded the delivery of affordable properties would amount to £5.2bn.
"This would support 30,000 affordable homes planned to start over the next 18 months and would remove sales risk enabling the conversion of an additional 9,000 homes from market sale to affordable homes based on social rent levels," the letter said.
Councils also needed to be freed from red tape "to enable a rapid response in an uncertain market and a first step to this would be removing rules restricting use of their own receipts from Right to Buy sales.
Whatever happens, Brexit is already impacting the housebuilding sector in London

Joint letter to housing secretary James Brokenshire
Describing the possibility of a "no-deal" Brexit as "particularly catastrophic" the trio's letter called on the government to offer a range of financial support or sales guarantees to private housebuilders in the event that house prices were to fall significantly, as well as an expansion of land funds currently provided to the GLA.
The letter also warned the government's proposed immigration policy after Brexit would hamper the sector, with a drive to recruit and train Londoners in construction skills unlikely to replace the loss of existing labour, while housebuilding activity would also be hit by vital materials being held up at customs checks, with a knock-on effect on costs.
"Whatever happens, Brexit is already impacting the housebuilding sector in London," the letter concluded.
"There is an urgent need for certainty and we urge the government to step up and take responsibility for addressing these serious challenges, which not only have the potential to jeopardise homebuilding in London but also your own national target of 300,000 homes each year."
Responding to the letter an MHCLG spokesperson said: "The government remains confident that it will secure a good Brexit deal with the EU. Our ambitious £9bn affordable homes programme will deliver 250,000 homes by 2022, including 116,000 in London.
"We have also pledged over £58m to councils to assist their Brexit preparations and providing regular communications to local leaders so they are kept well-informed."