Funding to go to local authority enforcment teams largely in London, Birmingham and Manchester
The government has given £8m of funding to councils to chase high-rise flat block owners who still haven't paid for fire safety repairs to their buildings.
The Department for Levelling Up, Housing and Communities said the funding for dedicated enforcement teams will be split between 59 authorities, and prioritised according to which councils have the largest number of unsafe buildings.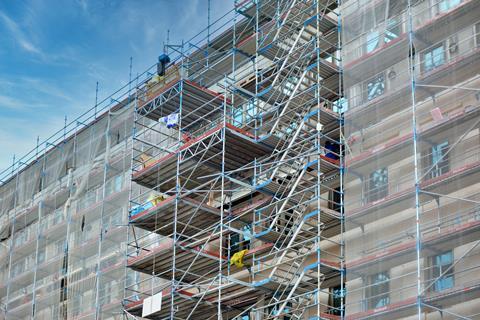 The department said the funding would allow councils to pursue building owners "dragging their heels" over fire safety works, particularly replacing flammable cladding, and would largely be focused in London, Manchester and Birmingham.
Building Safety Minister Lee Rowley said the government will be "relentless" in pursuing building owners who do not get cladding repairs done.
"We are bolstering council enforcement operations, making them better equipped to make the most of the powers they have to hold freeholders to account and prevent them from dragging their heels," he said.
The announcement was welcomed by Cllr Dora Dixon-Fyle, Cabinet Member for Community Safety at Southwark Council, who said: "We have far more high-rise buildings than many other London boroughs, […] this funding will support a much needed expansion of our work."
>> See also Gove's return could mean a fight with housebuilders is on the cards
>> See also DLUHC warns housebuilders to sign cladding contracts 'very soon'
The Building Safety Act makes clear building owners must fix their own buildings and that developers are the first in line to pay to protect leaseholders from repair bills.
The announcement of funding for enforcement comes after Housing Today on Friday reported that Michael Gove had ripped up compromises agreed between the industry and his predecessors of the legal contract underpinning housebuilders commitments to repair their own developments.
Housebuilders say the contract now being put forward by the government is open ended, subject to change and commits them to pay for building improvements as well as life-critical fire safety repairs. The contract is designed to underpin the in principle pledge made by 48 of the UK's largest builders to fix their own developments going back 30 years, without recourse to public funding,
The housing secretary has previously threatened to use powers in the Building Safety Act to prevent housebuilders from receiving planning permission or building control approval if they don't sign up fully to the scheme