Department says it will "not accept any backsliding" over housebuilders' tower blocks fire safety promise as it finalises revised contracts
The Department for Levelling Up Housing and Communities (DLUHC) said it is close to finalising revised fire safety pledge contracts and expects housebuilders to sign them "very soon".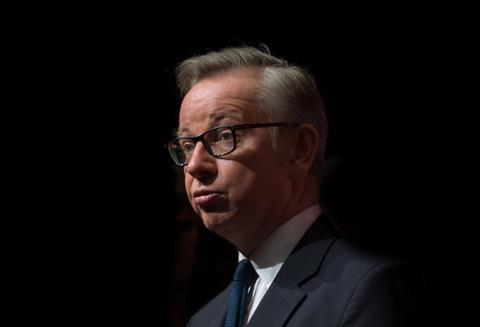 A total of 48 developers signed housing secretary Michael Gove's 'developer pledge' earlier this year, which commits them in principle to fixing 'life-critical' fire safety defects on their own blocks going back 30 years. Commitments from individual housebuilders under the pledge have totalled more than £2bn.
However, housebuilders refused to sign the initial detailed contracts giving legal force to the pledge in August due to concerns the wording would leave them open to costs for works that go beyond 'life-critical' defects. They were also concerned the text would allow DLUHC to reopen the settlement at a later date.
The text of the contract has now been reworked to ensure housebuilders feel comfortable signing it, amid ongoing discussions between lawyers for DLUHC and the Home Builders Federation (HBF).
With Gove last week re-appointed to the department, officials stressed it now expects housebuilders to sign the new agreement soon.
See also: Gove is back: the key questions for the returning housing secretary
See also: Housebuilders have signed the developer pledge - now we must work out the details
See also: The Building Safety Bill becomes law – here is what you need to know
A spokesperson said: "We are finalising the legally binding contracts that developers will sign to fix their unsafe buildings, and expect them to do so very soon. We will not accept any backsliding on their commitments.
"It is building owners' legal responsibility to ensure all buildings are safe and we expect developers and building owners to work at pace to fix their unsafe buildings to ensure people feel safe in their homes."
A spokesperson for the Home Builders Federation said: "We continue to engage constructively to agree a contract that aligns with the commitments made in the pledge'.
The relationship between HBF and Michael Gove became strained earlier this year, with the latter reported as describing housebuilders as a "cartel", with HBF executive chair Stewart Baseley describing the comments as "unfounded" and "worrying" in return. Gove declined to meet with representatives of volume housebuilders during his tenure as housing secretary.
Gove also used aggressive tactics to persuade housebuilders to pay for repairs to fire safety defects, threatening to stop housebuilders trading if they didn't pay up. He drove through amendments to the Building Safety Act to give ministers the power to prevent companies building out schemes, even if they have planning permission, for "any purpose connected with securing the safety of people", and has pledged to further set up a £3bn building safety levy.