Councils with up-to-date plans will not have to show a five-year supply of housing sites under new plans
Councils with up-to-date local plans will no longer need to demonstrate a five-year supply of housing sites in order to fend off speculative planning applications, under government planning reforms revealed yesterday.
In a document released alongside yesterday's Levelling Up and Regeneration Bill, the government said it intended to in future exempt councils with up-to-date plans from the need to show a five-year housing land supply, as required by the current system.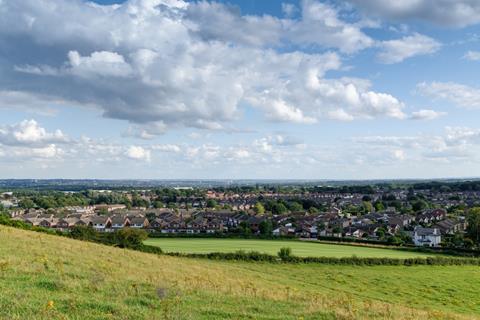 The document says the move is designed to "to incentivise plan production further and ensure that newly produced plans are not undermined", and will apply to all plans adopted within the last five years.
The policy change will be seen as a significant victory for local authorities over developers, many of whom use the lack of a five-year land supply to help achieve planning permissions on unallocated sites.
Under the current system, decisions on major housing schemes in local authorities without a five-year supply of housing sites can often end up being judged on appeal against the presumption in favour of development in national policy, rather than the local plan, even when the plan is up to date.
This proposed policy change would abolish that avenue for developers seeking permissions on unallocated sites.
>> See also: Superfluous and unconvincing: Why the Levelling Up Bill is a missed opportunity
>> See also: The Queen's Speech shows the government in full retreat on planning reform
The reform is just one of a number of significant changes to the planning system announced yesterday, which have received mixed reviews from the development industry.
The Bill published yesterday confirmed the government's intention to reform the process of creating local plans, which it described as designed to give them "stronger legal weight and be made simpler to produce".
However, much of the bill is devoted to putting in place statutory powers for the government to set out a suite of National Development Management Policies, which will actually trump local plans if they are in conflict. The idea is for a suite a basic centrally-set policies which allow local plans to avoid endless duplication of common ideas from authority to authority.
The government said it still wanted local authorities to draw up these new, simpler plans within 30 months, but has abandoned its original idea, contained in the Planning White Paper, to make this a statutory timetable, with sanctions for those authorities that fail to comply.
It also confirmed officially for the first time that it has dropped the white paper proposal for growth areas. It said: "Proposals which were set out in the Planning for the Future White Paper for all land to be placed in prescribed categories and linked to automatic 'in principle' permission for development in areas identified for development, are not being taken forward."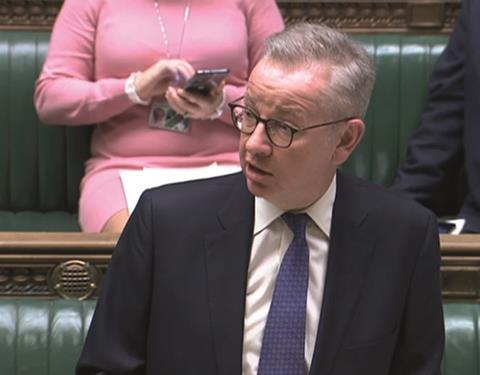 Launching the Bill, which also includes plans for a new Infrastructure Levy, will see the existing Duty to Co-operate between neighbouring councils over housing numbers repealed, and puts into law a series of targets to "level up" parts of the UK, housing secretary Michael Gove said: "This Bill puts in place the reforms we need to level up. It enshrines our levelling up missions in law, which will shift resources and focus throughout this decade to the parts and people of the country who need it most. It enables every part of England which wants a London-style mayor to have one.
"It empowers local people, not the big developers, to take back control of regeneration in their community."
His comment on developers comes after he yesterday appeared to refuse to back the government's 300,000 homes-a-year manifesto housebuilding target, albeit he said he believed the planning reforms will ultimately deliver more homes.
>> See also: The government's regulation and rhetoric threatens the viability of sites
Stewart Baseley, executive chairman at the Home Builders Federation said that while Local engagement was important, the planning system "should not become a charter for Nimbys".
"While these announcements may grab headlines, we need to see proper solutions that reduce delays or housing supply will fall. Government's anti-development policy regime and rhetoric is in stark contrast to its public commitments to increase supply and help people find a decent home and will inevitably exacerbate a deteriorating situation.'
Zack Simons, planning barrister at Landmark Chambers, said in a blog post that the change in status of local plan policies was potentially very significant. He said: "For all the headlines on localism, street votes and neighbourhood planning, this bill contains a power grab by central government.
"Where it seems we are heading is toward a legal presumption in favour of national policy […]. That may lead to more consistency, to streamed-down more focussed plans, and so on to better decision-making. But don't kid yourself: it's a radically different approach to what we have now."
Dave Sheridan, executive chairman of modular housebuilding pioneer, ilke Homes, said: "DLUHC have all but abandoned the 300,000-homes-a-year target, while introducing a street votes policy that will empower local communities to have a say on local design codes.
"While encouraging more people to get involved in the planning system is welcome, these piecemeal reforms shouldn't be used as a sticking plaster for urgently needed reform of the planning system - which so often holds back the delivery of much-needed housing and the consequential creation of jobs."
The reforms have been largely welcomed by local authority planners. Cllr Sam Chapman-Allen, chair of the District Councils' Network said he was "pleased with the change of direction on planning reform".
He said: "It's right that local plans should drive development and […] We look forward to working with the Government to make sure they deliver on their promise.
"We also welcome the principle of encouraging positive public participation in local planning."
Victoria Hills, chief executive of the RTPI said: "We welcome the substantial reform of local plans, but recognise that the function of local plans is as important as their production. Each local plan produced now will need to implement the 6th carbon budget and contribute to delivering 80% reduction in CO2 by the end of the local plan period."